Moms Are Here For The Parking Lot Self-Care Trend — & So Are Psychologists
See you on the Target tarmac, ladies.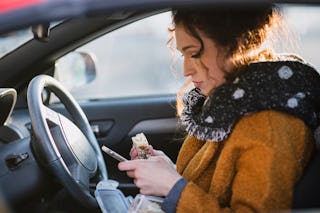 SolStock/Getty Images
Jamie Senke arrived at Target on a Thursday afternoon and noticed the parking lot was unusually crowded. As she drove through the rows, she was surprised to see women sitting in their cars.
When she returned home, she posted on a local moms' Facebook group: "Why didn't ya'll tell me Target parking lot is the spot to hide from our husband & kids!? Literally I see a bunch of ya'll just chilling in your car....hey 🙋‍♀️."
Her post quickly received hundreds of likes, along with comments from group members raving about the alone-time tactic.
"So, this is what I do, guys!" wrote Amber Mearkle. "Order online, and then take two hours to 'shop' by sitting in my car in the parking lot, enjoying a hot Starbucks and peace and quiet."
Koryn Jones joked, "The first rule about the Target parking lot club is you don't talk about the Target parking lot club…"
Sorry, but the truth is out about the parking lot club, so moms might as well own it!
Actually, many are already owning it. TikTok user LeeAnn Braun posted a video about sitting in her car to eat so she "doesn't need to listen to her kids argue or her husband chew." The video has received more than 1.7 million views.
In the video, Braun is munching on fried food and just relaxing. Like Braun, many other moms who partake in "parking lot self-care" choose to use this time to eat junk food in peace. In fact, the practice is so popular that Potbelly, a national restaurant chain, caught on to the trend in 2020 and put up parking lot signs advertising "Alone Time" parking spots.
Potbelly is not the only business to cash in on the trend. Retailers have created tons of accessories to make car time more cozy. For moms who like to snack, Amazon has more than 250 results for "Steering Wheel Tray," and some are quite fancy. There are models with phone holders, crystal embellishments, and bamboo finishes. Yes, it's the perfect Valentine's Day gift. You're welcome.
While moms like to munch on junk food during their car quiet time, many need entertainment, too. It might be rocking out to a dance mix, relaxing with spa music, or perhaps rage-singing Eminem:
If you're new to parking lot self-care, rest assured — there are ideas aplenty. You can listen to podcasts, stream a show, indulge in coffee, learn to meditate, read, knit, or finally clean the crumbs out of your cupholder.
Experienced parking-lot pros even deck out their cars with aromatherapy diffusers, bling, and massagers. If your car is your sanctuary, embrace it, like this glamorous mom:
As this trend picks up speed, you might wonder whether it's a healthy habit, or if moms should pump the brakes. To find out, we asked several psychologists, and the response was overwhelmingly in favor of supporting a mother's need for self-care, as long as the activity is positive and healthy.
It's OK for self-care to take place in the car, says Gail Saltz MD, clinical associate professor of psychiatry at The New York Presbyterian Hospital and host of the "How Can I Help?" podcast. She recommends moms try any self-care activities that they find joyful and relaxing, as long as it is not a harmful behavior like drinking alcohol in secret, using drugs, or cheating on a partner.
She also encourages moms to be honest about their time in the car. Moms should feel comfortable letting their spouse or older children know when they need a quiet moment. Of course, younger children might not understand self-care, so they don't need a complete run-down of your routine, but in general, the goal is to strive for truth and transparency. It's perfectly natural to take time for your own thoughts and interests.
"I don't think this practice is new," Saltz says. "Social media just means more moms are sharing that they do it. Moms are less embarrassed to admit that yes, they do need time away from their children to just be."
So, there you have it. Expert advice that you should go ahead and take a few extra minutes when you need it. As moms, we recharge on the go, whether it's at home, at work, or in the car. And that's just fine.
See you in the Target parking lot, ladies.