It's (Hands-Free) Sexy Time — Vibrating Panties Are How Busy Women Are Finding Pleasure… Better
We only recommend products we love and that we think you will, too. We may receive a portion of sales from products purchased from this article, which was written by our Commerce team.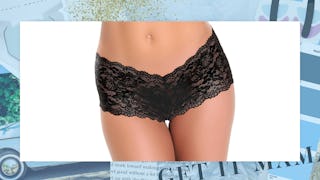 The best vibrating panties are right here, ladies … recommended by women (and moms) who know. Pour a cocktail, press the button, and… you're f***ing welcome. Vibrating panties are here to turn you on, chill you out, and remind you how good it feels to be you. There's no better time to treat yourself (or your partner) to some naughty fun — not that you need an excuse to treat yourself to a little masturbation session.
If you're new to the sex toy world, vibrating panties may seem a little intimidating. Don't be intimidated, Mom — you pushed an entire human being out of your body. You can literally do and conquer anything. (Especially your own lady bits!) Vibrating panties work by getting you off, totally hands-free. You simply slip them on then either work the remote control yourself or put your pleasure in your partner's hands.
"Any toy can unlock sexual creativity, but panties have the advantage of going where you go, so you can range further than your bedroom when wearing them," says Carol Queen, Ph.D., a Good Vibrations Staff Sexologist. "They are awesome for going dancing (remember going dancing?) especially because there will be enough sound in the room to muffle the buzz. [Even while doing] housework! Why not?"
Queen also mentioned that vibrating panties are also potentially great for those who have hand strength or mobility issues. "Keep the vibrator where you want it," she adds.
How can vibrating panties can help couples?
Well for one, they're sexy and fun! Whether you're an adventurous couple or looking to spice things up, Queen says that vibrating panties are a great option.
"There are some that are remote-controlled, so a partner can turn them on and off. Fun! As long as that use is negotiated first," Queen explains. "These are a type of toy that seems fun and frisky, and a great way to start playing with toys–especially with a remote for a partner to use, they really can be very couple-centric (though do not have to be)."
Just for emphasis — vibrating panties can 100% be a solo activity! Enjoy yourself, Mama.
***
Complete sets are totally in right now — AKA remote, vibes, and undies included — but if you'd prefer a wearable vibe that can pair with either your favorite lace-up number or a pair of comfy boy shorts, we've included those, too. Vibrating underwear (or wearable vibrators) easily turn a regular pair of undies into a full-blown tease game with your lover. They're perfect for lesbian couples, as well as men-women pairings. They're also super discreet, so some our favorites are whisper-quiet and made of medical-grade, non-porous silicone that is totally safe for your body. So to help with that "first-time" intimidation, we did the research for you by selecting a variety of different vibrating panties to suit your needs. Happy vibing!
RELATED: 13 Of The Best Sex Positions You'll Want To Try ASAP
Best Vibrating Panties
Remote Controlled Vibrating Panties
Need more self-indulgent wellness products? This is self-care after all.
This article was originally published on