25+ Shows Like Outer Banks That You Can Binge With Your Teen
Come on, the Pogues would definitely invite Riverdale's Jughead to join them.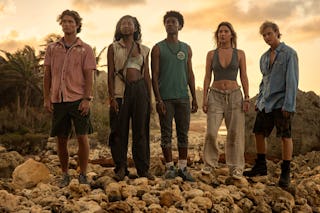 Jackson Lee Davis / Netflix
The Pogues can't catch a break, but there's no denying that the beleaguered teens at the center of Outer Banks keep both you and your own teens on the edge of your seat with their treasure-hunting adventures and dramatic romances. But because Netflix's hit series moves with the speed of a high-octane blockbuster, finding shows like Outer Banks can be tricky.
Part of what keeps viewers coming back for more is the show's twists and turns, but there are other elements that make this show a winner with kids and parents alike. At its heart, the show is about found families and young love, two themes often present in teen shows. It also has gorgeous vistas that leave you daydreaming about a vacation, even as John B and Sarah are fleeing yet another group of baddies.
Given just how multi-faceted this wonderfully bonkers show is, there's no shortage of series that will remind viewers of at least one element of Outer Banks. Is your teen looking for another show with a beachy setting and complex coming-of-age story? Try The Summer I Turned Pretty, a series that makes up for its lack of chase sequences with swoony romances and an abundance of beach scenes. More into the non-stop action that Outer Banks serves up? Then it might be time to introduce your kids to the classic series Lost, a show that ended nearly every episode with a wild cliffhanger.
If you've sailed through the first three seasons of Outer Banks, check out these shows that the Pogues would binge if they could finally evade danger long enough to take a TV break.
Teen Shows That Give Off Major Outer Banks Vibes
1. National Treasure: Edge of History (2022- )
Since Season 1, the Pogues' treasure hunting has escalated from searching for Denmark Tanny's gold to finding El Dorado. Along the way, the mysteries have become more complex even as the show lightly draws some influence from real-life stories about lost treasure. If the mysteries keep you coming back to Outer Banks, then National Treasure: Edge of History is the perfect show for you.
Like John B., the protagonist, Jess, has a complicated relationship with her father and a knack for finding trouble. Based on the National Treasure film franchise, the Disney+ series is packed with fun historical facts and puzzles just waiting to be unraveled as Jess and her friends search for treasure hidden away from the Spanish conquistadors centuries before.
2. On My Block/Freeridge (2018-2021)
John B, Kiara, JJ, and Pope are, first and foremost, outsiders who rebel against their community's preconceived ideas about who they are and what their futures will look like. Netflix's On My Block and its spinoff, Freeridge, follow similarly tight-knit groups of teens who are coming of age together in their South Central Los Angeles neighborhood. Both shows also feature a curse, so there's a dash of supernatural-ish fun thrown in as well.
3. The Summer I Turned Pretty (2022- )
Sand and sunshine are front and center in The Summer I Turned Pretty, and even though Belly isn't embroiled in any mysteries, her life and the lives of her friends are still full of drama. Filmed in Wilmington, North Carolina, the beach setting instantly brings to mind Outer Banks, as does Belly's complicated romantic life (let's just say she and Kiara would be besties).
4. Riverdale (2017-2023)
The longer Outer Banks goes on, the wilder the show's twists become, but the writers can never hope to reach the truly absurd heights of Riverdale. Cults? Witches? A parallel universe? The show, which is loosely based on the Archie comics, has done it all and then some.
5. The Wilds (2020-2022)
In season three of Outer Banks, the Pogues are briefly trapped on an idyllic island they dub Poguelandia. For them, their short stay is a welcome reprieve from constantly running from their lives, but The Wilds takes a decidedly different approach to teens finding themselves stranded on a seemingly deserted island. When a group of teen girls from all walks of life end up stuck together on an island, they quickly discover nothing about their predicament was accidental.
More Shows Like Outer Banks
Blood & Treasure (2019-2022)
Dive Club (2021)
Locke & Key (2020-2022)
The Society (2019)
Pretty Little Liars (2010-2017)
Dawson's Creek (1998-2003)
The O.C. (2003-2007)
Dead of Summer (2016)
Scream: The TV Series (2015-2019)
Red Rose (2023)
Wednesday (2022- )
Blood & Water (2020-2022)
Teenage Bounty Hunters (2020)
One Tree Hill (2003-2012)
Veronica Mars (2004-2007; 2019)
One of Us Is Lying (2021-2022)
Panic (2021)
Cruel Summer (2021- )
Summer Heat (2022)
Lost (2004-2010)
Summertime (2020-2022)
These should keep you busy until the next season — since, let's be real, we've all already sailed through Season 3.