21 DIY St. Patrick's Day Games & Activities Your Kids Will Love
It's gonna be a green, er, great day!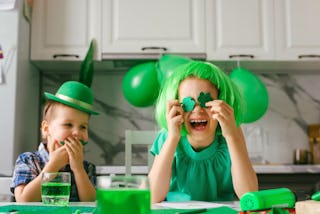 Shutterstock
Top o' the mornin' to ya! St. Patrick's Day is upon us, so it's time to dive headfirst into all things "Irish." For you, that might mean wearing way too much green, telling some inappropriate St. Paddy's Day jokes, and drinking one too many pints of Guinness. Kids love St. Patrick's Day for entirely different reasons, but even they understand that this holiday represents shenanigans. Not wearing green? You're getting pinched. Want a pot of gold? You'll have to hoodwink a leprechaun. Plus, there are literally bright colors and rainbows everywhere! What could be better when you're 3 or 5 (or ten or 35)? Nothing, lass. Nothing is better than St. Paddy's Day. The only thing that could perhaps enhance it is having a whole bunch of St. Patrick's Day games and activities lined up that you can DIY with your family.
After all, the question of how to entertain your little lads and lassies on this bright and beautiful spring day is a valid one. It's not like you can take them day drinking. Believe it or not, fun and innovative ways to celebrate St. Patrick's Day without the Jameson do exist. Need some ideas? Say hello to the following St. Patrick's Day activities, a mhuirnín! (That means "darling" in Irish.)
See? Tons of stuff you can do with your kids at home on St. Patrick's Day — even if you waited until the very last minute and missed your window to order supplies. You just need some creativity and a little luck to pull off these fun St. Patrick's Day games and activities.