Frightfully Popular: Here Are The Top Halloween Costume Searches For 2023
Find out what costumes you'll see most this year, whether you want to avoid trends or be on point.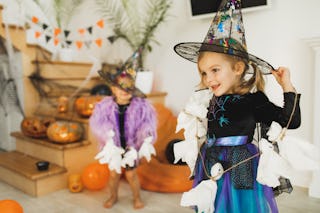 Anastasiia Krivenok/Moment/Getty Images
There's three weeks until Halloween, which probably means your kid has changed their costume idea an estimated 14 times. As the date approaches, though, it's time to focus in, get them to commit, and find, buy, or make a costume for the big candy-centric day. But do you want to know what other kids are going to show up as before you settle on your choice?
While some kids want to follow trends and gravitate toward the most popular ideas, other kids might want to make sure that their costume idea is super unique. But whatever the case, knowing the most popular Halloween costumes for 2023 will help you and your kids choose your choice.
First up, ComicBook.com analyzed Google search data to pinpoint the most popular pop-culture costume searches in 2023.
Not many people will be surprised by the top pick: even though summer is over, everyone is still all about Barbie. But while everyone is expecting tons of Kens and Alans and Weird Barbies to be running the streets on October 31, Cowgirl Barbie, with her bright pink vest and bandana paired with white cowgirl hat and boots, will rule the night.
Next up is lots of searches for green wigs, clown face paint, and a red suit — all pointing toward lots of Jokers running around scaring people this year.
The hit show Wednesday is also definitely making an impact on the spooky season. The number 3 and number 5 spots go to Wednesday Addams and her mom Morticia. Really hoping for a lot of mother-daughter costumes here — or many whole family costumes.
The nostalgia just keeps on rolling as the list continues. The new Super Mario Brothers movie means that quite a few Marios will be running around (including my completely obsessed 4-year-old nephew), and I guess that also means that there will be some Luigis running around too.
Some comic book and Disney characters round out the top ten, with Ariel coming in hot after her live-action theatrical release and Spider-Man enjoying a bump in popularity following Across The Spider-Verse.
Coming in at number 10, there will be another big herd of adorable baby Gorgus this year. I'm not complaining.
Here's the top ten list for the 2023 pop culture Halloween costumes in full.
Cowgirl Barbie
Joker
Wednesday Addams
Mario
Morticia Addams
Top Gun
Ariel
Spider-Man
Buzz Lightyear
Grogu
In addition, Google itself also looked at its own trends to find the overall most popular costume searches this year and published them on a very spooky page called Frightgeist. They offer up the 100 most popular costume searches, including both traditional and pop-culture picks.
Witch
Spider-Man
Dinosaur
Stranger Things
Fairy
Pirate
Rabbit
Cheerleader
Cowboy
Harley Quinn
Coming in with the top spot is the ever-classic witch, followed by Spider-Man and dinosaur searches. Google also found a large search volume for Stranger Things costumes, which the other study didn't pick up on (it's not clear exactly how Google found their data). Fairies, pirates, and rabbits will also be running the streets at the end of the month.
Now that you know what kind of characters will be ringing your doorbell later this month, go forth and buy some candy.