PSA: Universal Offers Sweet "Priority Admission" Certificates For Kids Too Short To Ride
If your little one doesn't make the cut this trip, they'll have something to look forward to once they hit that growth spurt!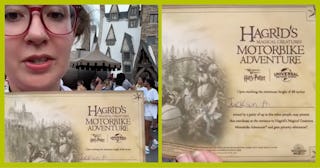 @blackowltravels/TikTok
One of the best things about theme parks is that they offer so much entertainment for the whole family — but it can be heartbreaking as a mom to see the disappointment on your littlest family member's face when they don't meet the height requirements. Nothing seems more soul-crushing to a kid than finally getting to Disney or Universal only to discover they're not quite tall enough for the rides!
While some parents have become notorious for trying to hack the mandatory height, a more discerning mama knows that it's best just to wait it out. Eventually, your little one will be tall enough to ride with Hagrid. And as one mom recently revealed on TikTok, Universal Studios has the sweetest way to welcome back kiddos once they hit the obligatory height requirements.
On June 25, Black Owl Travels shared a video of her son standing underneath the height requirement ruler for Hagrid's Magical Creatures Motorbike Adventure at Universal Orlando. Although he didn't make the cut ("he eats all the right things so he can grow, and he's not quite there yet"), the family wasn't sweating it — Mom knew about Universal's certificate policy.
"Universal has these height certificates, this one's for Hagrid's because that's the one Jack is trying to ride. When he gets tall enough, he gets to bring this back, and he gets escorted to the front of the line," she said, adding, "It gives him a big goal."
That's right — as a consolation prize for kiddos who aren't quite tall enough to ride the rides, the beloved theme park offers "skip-the-line" certificates. Each certificate is perfectly designed to reflect the missed ride and is presented to the vertically challenged kiddo in question. When you bring 'em back after they shoot up an inch or two, they can present the certificate to an attendant and "be escorted to the front of the line."
It's a big deal for that kiddo, and everyone around them tends to make a big deal of it, too. According to Black Owl Travels, they hung her son's certificate on the fridge as encouragement while he waited for and navigated his growth spurt.
According to Travel + Leisure, the certificates don't technically allow you to skip *straight* to the front of the line. Universal does, in fact, offer these cool mementos to kids who don't meet the height requirement for select rides and attractions. When the child hits that height requirement and returns, the certificate allows the child and their family (up to six people) to enter the express (or Lightning Lane) line.
If you forget to grab one while you're actually at the ride or lose it somewhere along the way, you can pick one up at Guest Services.
Although this is news to many people (raises hand), some folks have known about this system for a while. "I did this for my baby cousins, and when we got to go to the front of the line, they got so excited and everyone clapped for them ... it was so cute," commented gabifuentes07. "I got this when I was 6 at Disney. Now 32 and tempted to try and use it," wrote Hillary, hinting that Disney may have a similar program.
In replies to her comments, Black Owl Travels mentions that she explains to her kiddos that height requirements are there for their safety. They're pretty understanding from the sound of it, but it looks like they go to Universal fairly frequently.
If a trip to Universal is a once-in-a-lifetime kind of trip or you're worried your child might not be so understanding of safety protocol, you can check Universal's height requirements online and wait to plan your trip until your kids are tall enough to ride. In most cases, they only need to be about 40-42 inches tall.
If you do go and have a little one who doesn't measure up yet (they'll get there soon!) but other family members still want to ride a certain ride, you can always use the parent rider swap.
Available at both Disney and Universal, it allows one parent or caretaker to sit out a ride with the child who can't or doesn't want to go on a ride. Once the rest of the group rides the ride, the parent who sat out the ride will swap with the parent who rode — without the hassle of the entire group having to wait in line again.