Water Fight! The Best Water Guns To Stay Cool And Victorious This Summer
These picks will make summer time less of a bummer time.
by Jenn Sinrich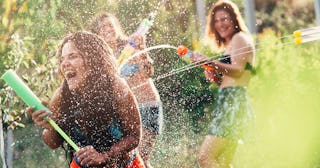 Getty Images/ filadendron
We may receive a portion of sales if you purchase a product through a link in this article.
Oh, water guns. You're such a staple to every fun activity during summertime. So many of the toys your kids are obsessed with today weren't around when you were a kid—ahem, tablets and hoverboards anyone? But one tried-and-true toy that's most definitely not lost its popularity among the kiddo crowd is toy water guns, because, who doesn't enjoy getting sprayed with some cold water on a super hot summer day?! It's also an activity that the whole family can get involved in, so you can bring together all ages for some backyard fun. Bonus if you've got inflatable water slides and kiddie pools for more backyard water adventures.
The toy water guns that are on the market today haven't even changed much in the past several decades other than some additional bells and whistles that make them even easier to operate and at an even higher capacity, along with CPC-certified credibility. As a bonus, the prices for these kinds of toys are usually super reasonable, so your little one can collect quite the stash.
Ready to shop for water guns that will provide ample entertainment for your whole fam all summer long? Check out some of these mom-approved options.
Best Water Guns for Kids
These water guns have rave reviews on Amazon and it's clear to see why. They're easy to maneuver, even for younger kiddos, and have a long-range shot—up to 27 feet! You can purchase them in a 2- or a 3-pack, which is super convenient if you have more than one child.
One Reviewer Wrote: "These water guns have rave reviews on Amazon and it's clear to see why. They're easy to maneuver, even for younger kiddos, and have a long-range shot—up to 27 feet! You can purchase them in a 2- or a 3-pack, which is super convenient if you have more than one child." — Amazon Customer
Both kids and adults can have fun with these super simple, but super-efficient water guns that come in a pack of six. They're the perfect size for hands as little as a three-year-old's, are easy to fill up, and can shoot as far as 20 feet. They're also made out of a high-quality material that's non-toxic and meets U.S. standards.
One Reviewer Wrote: "They're an impressive size and hold a good amount of water. The kids at the party LOVED them and ran around having fun like they were toy guns and were content... then being able to add water just upped the value. We have taken to the pool a few times and they've held up and other kids have wanted them. Super easy for toddlers to shoot too (but need a little help loading)." — Amazon Customer
Looking for a set of dependable water guns that won't break the bank? This two-pack is great for kids between the ages of three and eight. These are built like your standard water gun — you can take them into the pool or ocean with you and not worry about keeping batteries dry. They're easy to use and grip, and reviewers claim they're impressed with how far they shoot.
One Reviewer Wrote: "They are easy to hold by both children and adults. They hold a good amount of water once you dunk them in a pail of water for [the] easiest filling. They can shoot at least 20 feet, great for both defensive and offensive water battles." — D. Leggett
If you're hosting a birthday party or just want to have an endless supply of toy water guns, you can't go wrong with this pack of 30. They're super tiny, so they make great party favors or bring-along toys for the beach, pool or a neighbor's backyard. They come in an assortment of colors including yellow, orange, red, blue, and green.
One Reviewer Wrote: "Bought these for a carnival birthday party not expecting much from them but man did they surprise me. They all had a good amount of power behind them, we had no leaks, they were super easy for the smaller kids to handle and the adults were able to use them as well. Great deal for the amount we got. All of the kids loved them so much" — key
Best Super Soaker Water Guns
This pack of two super water blasters will take backyard fun to the next level. They hold up to 25 ounces of water and can shoot up to 36 feet! Parents will be happy to know that they're made out of a non-toxic material that meets U.S. toy standards.
One Reviewer Wrote: "After a soaker of a water fight, they both said these are the best water guns they ever had. They hold a lot of water and are accurate when shooting water (but it's not strong enough to hurt- just soak). This is high praise coming from my kids. Now they fight over who gets to use them when friends come over since they have to be 6 feet apart - these shoot that far!" — AlliBMan
This pack of 6 foam water shooters is great for a birthday party or pool party of any kind. They're super easy to use—just pull back the handle to load the "cannon" with water, aim it at your target shot and push the handle forward so you can blast your target with water. It's super lightweight, so it will float when not in use.
One Reviewer Wrote: "I was very impressed with these. They were very reasonably priced. So I thought after my 5 grandkids got them for the day of water fights, they wouldn't survive. [They're] made of very sturdy foam rubber on the outside. The kids played with them all day. Throwing, Hitting. [Squirting] each other. The toys and the kids survived. I recommend these highly." — Catrancher
Strongest Water Guns
Electric water guns are somewhat of a step up — but once you try them, you may never go back. Recommended for kids between the ages of eight and 12, this water gun shoots up to 40 feet, and contains a built-in water container that's leakproof, helping it last even longer in the midst of battle.
One Reviewer Wrote: "We played with it for an hour, filling it up at least 10 times, without even worrying about the battery. It seems to be good for at least a session or two with the kids. Probably going to pick up another one." — Joseph H.
Best Backpack Water Guns
Toddlers and big kids alike will love this Paw Patrol-themed water gun that features a rescue pack that can go on your kid's back like a backpack. The soaker holds up to 33 ounces of water, which means more fun and less refill time, and can blast up to a 30-foot distance.
One Reviewer Wrote: "I bought two sets of these water toys as gifts for two boys (ages 3 and 5) who are big Paw Patrol fans. They really enjoyed playing with these for hours. The canisters are easy to refill with water and [make] for a fun summertime activity." — Richard
If you're looking for a backpack water gun that can hold a ton of water, you can't go wrong with this one—it can store up to 88 ounces of water and has a 32-inch soft hose that can provide endless fun for your kids all summer long. It's made of a non-toxic ABS plastic material for optimum safety and durability.
One Reviewer Wrote: "Very easy to assemble! Just connect the water tube to the backpack, fill the backpack container with water….and the fun is on!!! We Love it!!" — Gloria G.
Even without a water gun attached to it, how cute is this bee backpack? Ideal for both kids and toddlers, this water gun backpack will keep the outdoor party going with limited refill interruptions. It has wide straps and a lightweight design that make it easy and comfortable for kids to carry, regardless of their age. The straps are also adjustable, so you can make sure you have the perfect fit.
One Reviewer Wrote: "Adorable backpack and great idea! No more running back and forth to refill...hours of uninterrupted fun!!" — Aron gluck
Love by these mom-approved active toys? Browse our favorite toys for more inspiration!
This article was originally published on