Lizzo Celebrates 'Big Girl Summer' With HOT Bikini Pics
by Kristina Johnson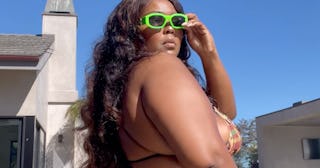 Lizzo/Instagram
Lizzo is ready for a "BIG GRRRL SUMMER" in show-stopping bikini pics
You might be ready for summer, but are you ready for big girl summer? It's officially begun with the arrival of some stunningly gorgeous bikini pics from Lizzo in a little Instagram PSA every single one of us needs to see.
In a series of smoking hot pics, Lizzo dons a colorful two-piece complete with a belly chain emblazoned with her name on it as she strikes a bunch of sultry poses for the camera, showing off her curves, her glow, and her overall bad-assery. But it's the caption that really slays: "BIG GRRRL SUMMER HAS BEGUN 😈😈😈 YOU BEEN WARNED 💪🏾😘" she wrote.
The comments were ablaze with fire emojis complimenting the fierce look and the "BIG GRRRL SUMMER" rallying cry.
"It is the unapologetic confidence for me!" one fan wrote.
"Lizzo send me summadat confidence please," another said.
"Where my big girls at?" Lizzo asks in another sexy video. "Big girls, we have abs," she says, or as she calls them, "fabs."
"You make me appreciate my body more," one fan commented on the video, and how amazing is that?
The multi-talented singer and musician may or may not want to be a role model, but there's no doubt in my mind that seeing Lizzo rocking her bikini and showing off her booty in a thong bottom is going to inspire someone, somewhere to stop worrying about "the perfect summer body" (which doesn't exist) and just embrace their body as is. That could be the teen girl who's been convinced she's not enough by photoshopped magazine covers and social media filters, or the mom who's too self-conscious to swim with her kids and be seen in a bathing suit.
If you're feeling anxious about your body with summer approaching (and so many of us are after a year plus of quarantine), watch Lizzo's PSA and scroll through her bikini pics and ask yourself these questions: does she look like she's having anything but fun glammed up by the pool? Does she look like she gives a damn about the occasional hater? Does she seem like she's looking to the size tag on her swimsuit to give her permission to have an amazing summer? The answers are no, no, and hell no.
"I'm claiming this big girl summer energy," another fan wrote on Lizzo's PSA. Something tells me they won't be the only one.