Mariah Carey Posts Throwback Of Her 'Sad' Attempt At 'The Rachel'
by Julie Scagell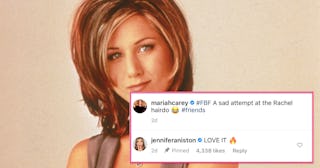 NBC Television/Getty Images/Instagram
Mariah Carey is all of us trying to recreate the magical 'do
It seems the Friends reunion is all anyone is talking about. As the cast reunited this week to reminisce about the show, their friendship, and their favorite moments, fans got to see beloved scenes replayed and it brought back one iconic part of the show that many of us can never forget and tried to replicate — "The Rachel" hairdo.
Mariah Carey got in on the action by posting a throwback of herself attempting the iconic haircut and it caught the eye of none other than Rachel herself: Jennifer Aniston. "#FBF," Carey shared on Instagram next to an old picture of herself. "A sad attempt at the Rachel hairdo #friends."
Though Carey doubted her recreation of "The Rachel," Aniston herself loved it.
Aniston responded with a fire emoji and a "LOVE IT" in all caps to show her appreciation for the attempt by the queen herself. It's also a "Stars, they're just like us…" moment for the rest of us who brought a cutout picture of Aniston to our hairstylist back in the day begging to look just like Rachel.
It's not just Carey who has been nostalgic for the Friends classic 'do. Beauty retailer JustMyLook recently did a poll on Friends-inspired beauty and fashion trends that are trending with the reunion special and found searches for the infamous Rachel haircut have increased 179% compared to last month.
The reunion special, hosted by James Corden and aired on HBOMax, was one fans have been waiting for since the show wrapped up in 2004 after ten seasons. We got to see the former cast-mates — Courteney Cox, Lisa Kudrow, Matt LeBlanc, Matthew Perry, David Schwimmer, and Aniston — reunite back on their old Friends set. It was an emotional and hilarious look back at a show that brought so many of us together.
"I was flooded with 10 years of irreplaceable memories," Cox, 56, told People of the reunion. LeBlanc, added, "It's funny, when we do get together, it's like no time has passed. We pick up right where we left off." When they entered the studio, Aniston said what most of us were feeling: "Oh God, how are we going to get through this alive, without just crying our faces off?"
While stars like Reece Witherspoon, David Beckham, and Justin Bieber made cameos to talk about what the show meant to them, for Carey, it seems, her attempt at the iconic haircut that swept through salons for years was definitely worth remembering.
Maybe the reunion and Carey's nod to the hairstyle will spur on a new movement of Rachel's out there. There are worse things that could happen.