In Awe Of The Power Of Music? Tune Into These Profound Music Quotes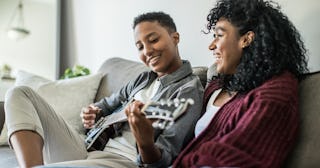 MoMo Productions/Getty Images
Music is central to the human experience. It's a way to communicate our thoughts and feelings — a shared language we all understand. It offers a bridge to connect with others, bringing people together from all walks of life. And, perhaps our favorite thing about music, it's transportive. Whether you're blasting the radio on a road trip or hanging out with your best friends, hearing a certain song can take you right back to any moment in time. Maybe it's a song your mom sang to you growing up. Or perhaps it's the first song you danced to at your wedding. Whatever the occasion, even hearing a few chords can bring back a flood of memories — and music quotes capture that magical trait.
So, if you love music as much as we do, stay tuned. We've pulled some of the best words that celebrate music in all its forms, and that's not all we have for fellow music enthusiasts. Thinking ahead to the upcoming holiday season? We've got a gift guide for music lovers of all ages. Want more musical fun (particularly for your little ones)? Check out our music jokes, music coloring pages, and musical games for kids.
Now, ready for the music quotes? Let's hit it.
Power of Music Quotes
"Music, once admitted to the soul, becomes a sort of spirit, and never dies." — Edward Bulwer-Lytton
"Music can change the world because it can change people." — Bono
"Music gives a soul to the universe, wings to the mind, flight to the imagination, and life to everything." — Plato
"Music is powerful. As people listen to it, they can be affected. They respond." — Ray Charles
"To sing is to pray twice." — St. Augustine
"How is it that music can, without words, evoke our laughter, our fears, our highest aspirations?" — Jane Swan
"Where words fail, music speaks." — Hans Christian Andersen
"One good thing about music; when it hits, you feel no pain." — Bob Marley
"Music is a world within itself, with a language we all understand." — Stevie Wonder
"Where words leave off, music begins." — Heinrich Heine
"Dear music, thanks for always clearing my head, healing my heart, and lifting my spirits." — Lori Deschene
"Music is the strongest form of magic." — Marilyn Manson
"Music is a great healer. Begin and end your day with music." — Lailah Gifty Akita
"There is music in the air, music all around us; the world is full of it, and you simply take as much as you require." — Edward Elgar
"Music is what tells us the human race is greater than we realize." — Napolean Bonaparte
"He who sings frightens away his ills." — Miguel de Cervantes
"Rhythm and harmony find their way into the inward places of the soul." — Plato
"The power of music makes all the difference to me with motivation throughout the day." — Paul Brodie
"Music is the universal language of mankind." — Henry Wadsworth Longfellow
"Music is the art which is most nigh to tears and memory." — Oscar Wilde
"Music produces a kind of pleasure which human nature cannot do without." — Confucius
"The only truth is music." — Jack Kerouac
"Music was my refuge. I could crawl into the space between the notes and curl my back to loneliness." — Maya Angelou
"After silence, that which comes nearest to expressing the inexpressible is music." — Aldous Huxley
"I think wherever you go, when people hear good music, they will react to it." — Wiz Khalifa
"Music is the great uniter. An incredible force. Something that people who differ on everything and anything else can have in common." — Sarah Dessen
"Music is my higher power." — Oliver James
"Music could ache and hurt, that beautiful music was a place a suffering man could hide." — Pat Conroy
"Music is well said to be the speech of angels." — Thomas Carlyle
"Music is powerful. As people listen to it, they can be affected. They respond." — Ray Charles
Music Quotes About Life
"Music is life itself." — Louis Armstrong
"People haven't always been there for me, but music always has." — Taylor Swift
"Life is like a beautiful melody, only the lyrics are messed up." — Hans Christian Andersen
"Heard melodies are sweet, but those unheard are sweeter: therefore, ye soft pipes, play on." — Keats
"Music is an outburst of the soul." — Frederick Delius
"Life is for the living. Death is for the dead. Let life be like music and death a note unsaid." — Langston Hughes
"Without music, life would be a mistake." — Friedrich Nietzsche
"Music is the language of the spirit. It opens the secret of life; bringing peace, abolishing strife." — Kahlil Gibran
"Music is the only language in which you cannot say a mean or sarcastic thing." — John Erskine
"Music is the moonlight in the gloomy night of life." — John Paul Friedrich Richter
"Music is the soundtrack of your life." — Dick Clark
"Music is nothing else but wild sounds civilized into time and tune." — Thomas Fuller
"Music is your own experience; your thoughts, your wisdom. If you don't live it, it won't come out of your horn." — Charlie Parker
"Life is one grand, sweet song… so start the music." — Ronald Reagan
"Music is the only thing I've ever known that doesn't have any rules at all." — Josh Homme
"There are two means of refuge from the miniseries of life: music and cats." — Albert Schweitzer
"Without music, life would be a blank to me." — Jane Austen
"Music is life! It's physical emotion — you can touch it! It's neon ecto-energy sucked out of spirits and switched into sound waves for your ears to swallow." — Isaac Marion
"We are the music makers, and we are the dreamers of dreams." — Arthur O'Shaughnessy
"If I had my life to live over again, I would have made a rule to read some poetry and listen to some music at least once every week." — Charles Darwin
"A man should hear a little music, read a little poetry, and see a fine picture every day of his life, in order that worldly cares may not obliterate the sense of the beautiful which God has implanted in the human soul." — Johann Wolfgang von Goethe
"Music enriches people's lives in the same way paintings and literature do. Everybody deserves that." — Victoria Wood
"Tell me what you listen to, and I'll tell you who you are." — Tiffanie DeBartolo
"Life seems to go on without effort when I am filled with music." — George Eliot
"I love the way music inside a car makes you feel invisible; if you play the stereo at max volume, it's almost like the other people can't see into your vehicle. It tints your windows, somehow." — Chuck Klosterman
"Most people die with their music still locked up inside them." — Benjamin Disraeli
"Music is my religion." — Jimi Hendrix
"Music washes away from the soul the dust of everyday life." — Berthold Auerbach
"Wake up, live your life, and sing the melody of your soul." — Amit Ray
"Music is a thing that changes people's lives. It has the capacity to make young people's lives better." — Noel Gallagher
"A painter paints pictures on canvas. But musicians paint their pictures on silence." — Leopold Stokowski
"Our sweetest songs are those that tell of saddest thought." — Percy Bysshe Shelley
"Music drives you. It wakes you up; it gets you pumping. And, at the end of the day, the correct tune will chill you down." — Dimebag Darrell
"Music brings a warm glow to my vision, thawing mind and muscle from their endless wintering." — Haruki Murakami
"I don't sing because I'm happy; I'm happy because I sing." — William James
"I adore art… when I am alone with my notes, my heart pounds and the tears stream from my eyes, and my emotion and my joys are too much to bear." — Guiseppe Verdi
"Music expresses feeling and thought, without language; it was below and before speech, and it is above and beyond all words." — Robert G. Ingersoll
"Music is the language of the spirit. It opens the secret of life, bringing peace, abolishing strife." — Kahlil Gibran
"Music is the literature of the heart; it commences where speech ends." — Alphonse de Lamartine
"A strange art — music — the most poetic and precise of all the arts, vague as a dream and precise as algebra." — Guy de Maupassant
Music Quotes About Love
"Music acts like a magic key, to which the most tightly closed hearts open." — Maria von Trapp
"Cause all of me loves all of you, love your curves and all your edges, all your perfect imperfections." — John Legend, "All of Me"
"Music is the divine way to tell beautiful, poetic things to the heart." — Pablo Casals
"Love is friendship set to music." — Jackson Pollock
"Music is love in search of a word." — Sidney Lanier
"'Well, I found a woman, stronger than anyone I know. She shares my dreams; I hope that someday I'll share her home." — Ed Sheeran, "Perfect"
"If music be the food of love, play on; Give me excess of it, that, surfeiting, the appetite may sicken, and so die." — William Shakespeare
"Music makes one feel so romantic — at least it always gets on one's nerves — which is the same thing nowadays." — Oscar Wilde
"You have to take a deep breath and allow the music to flow through you. Revel in it, allow yourself to awe. When you play allow the music to break your heart with its beauty." — Kelly White
"Take me to your heart, for it's there that I belong and will never part." — Elvis Presley, "Love Me Tender"
"The more you love, the more love you have to give. It's the only feeling we have which is infinite." — Christina Westover
"Music, my rampart and my only one." — Edna St. Vincent Millay
"If you were music, I would listen to you ceaselessly, and my low spirits would brighten up." — Anna Akhmatova
"In music, the passions enjoy themselves." — Friedrich Nietzsche
"Music is the mediator between the spiritual and the sensual life." — Ludwig van Beethoven
"Music is the emotional life of most people." — Leonard Cohen
"If it weren't for music, I would think that love is mortal." — Mark Helprin
"If you've lost your faith in love and music then the end won't be long." — Pete Doherty
"Some people want it all, but I don't want nothing at all, if it ain't you, baby." — Alicia Keys
This article was originally published on