20 Of The Newest Girl Names On The Popularity Charts (And 1 Surprise Return)
by Rita Templeton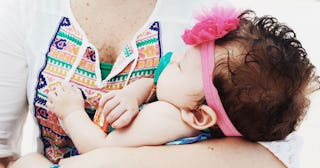 amy humphries/Reshot
Recently, as they do annually (and have since the 1880s!) the U.S. Social Security Administration released its list of most popular girls' and boys' names from the previous year. Some are standard occupants, names we can expect to see decade after decade — like Mary, which has literally never left the chart and was in fact at #1 for over 45 years. But each year, several names drop off into relative obscurity, replaced by new names which have clawed their way into the coveted top 1,000.
On the newest version of the charts, there were 50 newcomers to the "girl name" section, up from the previous year's 43 new entrants. Here are 20 of our favorites … plus a surprise rebound from a retro classic!
Sometimes when a name gets very popular, people gravitate toward similar sounds and spellings, and this is likely what's happening in Amaia's case. With soundalike Amaya currently sitting at #130 on the charts, Maya at #61 on the charts, and Maia at #502, it's no wonder that Amaia is gaining ground.
We've talked about this one before, but it bears repeating: this French form of Anne is a beautiful, more exotic-sounding alternative. Its pronunciation might leave your little Anais vexed at times, but if it keeps climbing up the popularity charts, it may eventually become one of those names that the general public actually knows how to pronounce.
Thanks to Prince William and Duchess Kate, the name Charlotte — which has always been a favorite anyway — has experienced new heights. Taking that into consideration, and the fact that we also love the name Scarlett, Arlette's entry into the top 1,000 makes total sense.
Arden has had an on-again, off-again relationship with the top 1,000 since — get this — the late 1920s! It first appeared on the charts in 1929, and was actually at its peak in 1930 at #738. Its current standing is at #967, but given the popularity of other surnames-turned-first-names like Harper and Emery, it may have a better shot this time.
You'd have to live under a rock not to know that names like Isabella, and its shorter, simpler version Bella, are, well — ringing people's bells right now. Bellamy is a unique spin on a popular name, and considering that so many other popular girl names end in Y (like Emily!), it isn't hard to see why it has secured a spot on the charts.
California girls (and UC Berkeley alums) know that Berkeley is typically spelled with that extra E in the middle. Yet it's the more streamlined alternate spelling, Berkley, that has made its way into the top 1,000. Betcha we'll see some Berkleighs being born in the near future too.
This one probably owes its popularity surge to "Game of Thrones" fans. While some are just straight-up naming their kids things like Khaleesi, others take a more subtle approach; one of the show's main characters, Daenerys Targaryen, was called "Dany" for short.
Della is another case of people liking a name (i.e., Bella and Ella) but not wanting to name their daughter that because it's "too popular," so they choose a similar-sounding alternative. However, this one also fits quite nicely into the category of the "Hundred-Year Rule," which states that a name gets popular every 100 years or so; Della was up to #175 in 1919!
Luxury never goes out of style, and this fashion-forward name's entry into the top 1,000 proves that people like things that sound high-end.
Is this a respelling of the mega-popular Emery, which currently stands at #92? Or is it an elaboration of current champ Emma, who's holding steady in the #1 spot for the fifth year in a row? Either way, it's a pretty name, and it definitely isn't hard to see why it's climbing up the charts.
When trendy names like Hadley, Harley, and Harper combine with the equally-trendy Paisley, you get Haisley! Prepare for the alternate spellings to follow suit: Haislee, Haisleigh, Haizley, Hayzlee, etc.
In the 2011 film Columbiana, Zoe Saldana played a character named Cataleya, and the name went from being on zero radars to being #480 on the charts the very next year. It has held steady in that range since 2012 (in fact, it's back at #480 again), and this alternate spelling is currently at #943.
This isn't a new name, or a mashup, or a respelling; it's actually an old Spanish religious name, a contraction of "Maria de la Soledad," or "Our Lady of Solitude." But this is the first time it's ever broken into the top 1,000, and we are so here for it!
We probably don't even need to discuss why this name has skyrocketed into the spotlight, but just in case, two words sum it up pretty nicely: it's got that "Markle sparkle."
Like Piper and Parker, Palmer is one of those surnames that just fits so well as a first name. Plus, it's adorably gender-neutral, which is perfect for when you're not finding out the sex in advance, but still want to give your baby an identity.
A spelling variation of an Arabic name that means "brilliant" or "splendid," this name shares the same trendy sound as Amaia, and is just exotic enough to be a standout. It first entered the charts in 2004, and dropped out in 2015 — but it's making a comeback.
This name, with such an adventurous feel, is another great gender-neutral pick. However, on the popularity charts, it skews female — thanks to not only the classic literary character Jean Louise "Scout" Finch from To Kill a Mockingbird, but also to actress (and daughter of Demi Moore and Bruce Willis) Scout Willis.
The name Violet stands at a high-ranking #43 on the popularity charts right now, so it's reasonable for its Spanish counterpart, Violeta, to follow suit. It made a brief, one-year-only appearance on the charts back in 1985, so only time will tell if it'll gain enough traction to hold onto its spot this time.
People love a V in the middle of their girl names … just ask the parents of any Ava, Avery, or Everly. This name's on-trend sound has landed it in the top 1000 for the first time ever, even though it's not a new name — not even close.
Part Zoe, part Lola, all a deserving new entry onto the popularity charts. It's probably no coincidence that a very similar name, Zora, is also a newcomer this year!
BONUS NAME: Robin
We're calling Robin a "bonus name" because this retro charmer has made a surprise reappearance on the charts. At its peak in 1962-63, it stood at #25. It declined steadily before dropping off the charts completely in 2004 — but has experienced a rebound! Could it be because of the emerging nature/bird name trends?
If you ask us, the baby names at the bottom of the popularity chart fall into a "sweet spot" category: they sound contemporary and cool, yet you still won't find them everywhere. Unique and trendy? Yes please!
Naming a baby can be scary. We can help! For thousands of baby names, inspirational lists and more, check out Scary Mommy's baby name database!
This article was originally published on