11 Owl Coloring Pages Kids Will Think Are Quite A Hoot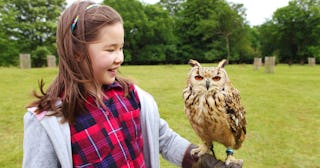 Peter Dazeley/Getty Images
Many people feel as if they can identify with the endearing owl. That's especially interesting if you think about it, as humans don't have too much in common with these nocturnal birds. For instance, did you know that owls can rotate their necks a full 270 degrees? They also dine on voles, mice, and even other birds. But their sense of secrecy may be what makes us so fond of owls. These creatures are capable of so much, and they're pretty to look at as well. So, you know what we decided would be a super-fun thing to do? Creating owl coloring pages.
Even though you may not come face-to-face with an owl anytime soon, you can at least show your appreciation with our free printables. Owl coloring pages are a blast for kids of all ages, including adults. While most owls seem to vary in neutral colors from white to gray to dark brown, you can be as creative as you want when coloring. Want to imagine a rainbow-colored owl with purple feet? Now's your chance to make it happen.
Once you've gotten your fill of wisdom from the owls below, feel free to check out our cow coloring pages, unicorn coloring pages, fox coloring pages, cheetah coloring pages, and more.
10 Free Owl Coloring Pages
Owl No. 1
This basic owl looks like he'd happily perch on your shoulder. Since this is a maneuver usually done by professional animal trainers, we suggest you only imagine the dream by coloring this page. With owl coloring pages, you don't have to worry about their real-life temperament. Phew! And here's a myth buster: Owls can't actually turn their heads 360 degrees. They can only turn it 135 degrees in each direction.
Owl No. 2
Slightly more detailed by design, this owl looks like it has a mission in mind. If you want to add to this coloring page, try drawing a tree branch for the owl to perch on. You can also color in the night sky. Even shading the background with a pencil may be a dynamic form of stress relief if you don't happen to have any colored pencils nearby. Fun fact: When owls fly, they don't make a huge flapping noise. Their flight is basically silent because they have special feathers that absorb turbulence.
Owl No. 3
On the subject of trees, this owl coloring page comes with its own. If you feel like coloring with a bunch of greens and browns, this would be a great page to put crayons in those hues to work. Did you know that owl parents are pretty harsh? They only feed their strongest babies first. (Yikes!)
Owl No. 4
Have a ton of colored pencils or a slim set of colored markers? This is the drawing for you. This coloring page is more intricate, begging for a finer-tipped coloring utensil. We love that it's a fantastic dedication to owls in general. Owls are also a symbolic bird with many meanings. In ancient Greece, they represented wisdom and learning. If they were spotted during a battle, warriors saw it as a sign of approaching victory. And just look at those eyes! Did you know owls have three eyelids?
Owl No. 5
This owl is the complete opposite of the last feathered friend, but it's still sure to be a blast. If you color it in black, you can even pretend he has on a penguin suit. Maybe you can print out two of these sheets and see how it looks both ways. And if you love this owl, you're probably a big fan of Harry Potter's pet owl, Hedwig. His large white bird was actually played by seven different owls: Gizmo, Kasper, Oops, Swoops, Oh Oh, Elmo, and Bandit.
Owl No. 6
We think this owl might be related to the owl on the second coloring page! If you print them all out, try to make this one radically different from the second by giving it a unique personality through color. Another idea? Ask your kiddo to write a story about these cousin owls. Then include this picture as an illustration. In fact, the earliest depiction of owls in art was found in the Chauvet cave in France.
Owl No. 7
Unlike some of the others, this coloring page doesn't leave too much room to color — but the parts that do need to be colored will help give this precious owl even more personality. Try a tan color for its chest and feel free to give it some additional texture with shading. And I think we can all agree this owl is pretty terrifying, so here's an equally horrifying fact: Some owls eat other owls and the northern hawk owl can hear prey beneath almost a foot of the snow.
Owl No. 8
Are you a fan of math? Then you may be particularly drawn to this geometric owl. It has triangular feathers upfront, which can be kept white or colored boldly if you wish.
Owl No. 9
Speaking of geometry, this owl is bound to amuse anyone who happens to be fond of circles. Destined to become a favorite for kids, it has tons of charisma. Don't you think? Just check out how its ear tufts look like little party hats.
Owl No. 10
While this owl looks bold and realistic, you can make it pop if you choose a color scheme full of adventure. For example, try coloring this owl in light shades of purple. If you're feeling a bit frazzled, blue would also be an appropriate shade that — bonus! — may help you calm down.
Owl No. 11
If your kid loves Winnie the Pooh, introduce them to Owl. He's not your regular Owl and sometimes says things that aren't very wise. He first appeared in the 100 acres woods in the Disney animated film Winnie the Pooh and the Honey Tree.
Click here to print all of the owl coloring pages at once!
This article was originally published on