8 Skin Care Products For People Who Suck At Skin Care
by Amanda Davis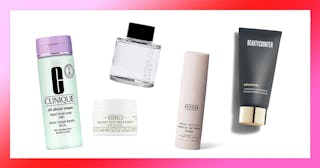 Ulta Beauty / Freck Beauty / Amazon / VERSED Skin / BeautyCounter
With combination skin, I've dabbled in many (many) different skincare products over the years. Skincare products made specifically for oily skin, sensitive skin, from drugstore brands to luxury brands, and all of the cult following skincare products in between, — you name it and I've probably tried it. At the end of the day, I always go back to the basics. Simple skincare products that are easy, effective, and can still make the daily ritual fun for me. When you're just starting your new skincare journey and learning what works for you, you may want to ease into it with the basics too.
RELATED: DIY Skin Care Tips, Tricks, And Recipes For Any Age Or Skin Type
Luckily, now there are tons of great options in simple and easy skincare. You can use clean, natural, AND uncomplicated products without spending a fortune or wasting an hour. Even VERSED Skin's Senior Product Development Director, Tamerri Ater thinks so — and she's a legit pro. Her first big tip to those just starting to learn about skincare is to know when to save your money and when to splurge.
"A good general [rule] of thumb is to skimp on wash-off products like cleansers since they're only on the skin for a short period of time," Ater said. "Investing more on leave-on treatments like serums makes more sense as they are usually highly concentrated with active ingredients and stay on your skin for an extended period of time."
What to look for (and avoid) in skincare products
Knowing your skin type is the first step in finding the perfect and easiest skincare product for you. With this info in your back pocket, you'll be able to scope out products that are made specifically for skin like yours (i.e. a hydrating gel moisturizer for dry skin or an unscented serum for sensitive skin.) When shopping for new skincare products, make sure to read the descriptions and ingredients!
"Look for the main 'marketing' ingredients that are featured on the front or back of the package and/or in the product name," Ater added. "If that ingredient is towards the beginning of the ingredient list, it is probably being used at a percentage that is actually beneficial for the skin and intended to meet the claim of the product."
Ater also gave a list of the beneficial ingredients you do want to see when reading these products. "Ingredients with lots of general clinical data are always good to look for in drugstore products – retinols, alpha and beta hydroxy acids, vitamin c, and peptides to name a few," she said. "Many of these ingredients are proven to work and are great additions to functional ingredients that are commonly used in product formula bases."
As for what to avoid: parabens, phthalates, hydroquinone, artificial fragrances, artificial colors, silicones, micro-beads, and SO much more. See VERSED's full 'No List' here.
What are the correct steps in a skincare routine?
Applying your skin care products in the correct order makes a difference too. Some products you wash off and some are buildable, and you don't want to ruin the effects or benefits of anything you take time to put on. The correct order is: cleanser, toner (optional but highly encouraged), face mask (around twice a week), serum, moisturizer, and eye treatment (optional).
RELATED: Get Ready For Your Glow Up With These Easy Homemade Toner Recipes
While you certainly don't need all of those things for a simple skincare routine, you'll want to try a few things to find what works for you. If you're struggling to keep up with anything even remotely resembling a skincare routine, the simple skincare products below are a good place to start. From personal experience, it's easy to slip into a multi-step skincare routine pretty fast, so beware! Your bathroom counter might soon be overtaken by serums and face masks like mine has.
We've rounded up the easiest skincare products for folks who…well…suck at skincare. But you're on your way to learning, Mama! Check out the list below for the easiest and most simple skincare products for beginners.
RELATED: 9 Sheet Masks For The Busy Mom Who Needs A Little R&R
Simple Skin Care Products
Facial Cleaners
Facial Toners
Face Masks
Serums
Moisturizers
Eye Treatments
This article was originally published on