20 Quick DIY Halloween Costumes From Primary
by Phuong Ireland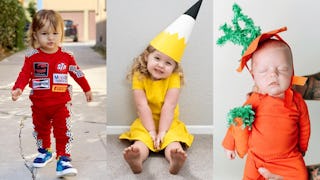 image: @kelsey_dewolf image: mrsecannon image: @orangesandavocados
We all know the scariest part of Halloween, right? The pressure of picking out your kid's costume. Trying to come up with something that's funny, unique, cute, cool, and relevant can be a nightmare on any street. There's nothing worse than rolling up to the party to find that your daughter is one of like 12 princesses with the same chintzy tiaras.
Throw in the fact that most costumes are made of cheap plastics (but priced like they're made of gold) that'll only be worn once, and the whole experience starts to feel way more trick than treat.
That's why we turn to our friends at Primary every October. Their selection of super-soft solid-colored kids clothes make the perfect base for killer Halloween costumes, and they're high-quality affordable clothes that your kids can wear all year. (Unlike that sweaty Peppa Pig mask.)
They have hundreds of DIY kids costume ideas and instructions. We know, we know — DIY is usually short for Do IlooklikeIhavetimetomakeacostumefromscratch Youidiot? But these are truly easy, and they're tagged with options like "no-sew" and "under 30 minutes." They're totally worth it. And it's a fun activity to do with the kids, too!
Plus, just in time for costume-shopping season, Primary is offering a 20% OFF discount to Scary Mommies with the code: SCARYMOMMY20.
So, here are 20 of our favorite, easy ways to turn Primary gear into kick-ass costumes that'll make everyone say boo, yah!:
WONDER WOMAN
Red top, blue bottom, some colored felt, and your kid is the world's greatest Amazonian warrior. Now if only you had a lasso that makes them tell the truth.
SHOP KIDS WONDER WOMAN COSTUME
BABY CARROT
Whoever said carrots are good for your eyes must have been talking about this cutie. Orange-colored babysuit, pants, and felt, plus some green pipe cleaner make a veggie that's actually a-peeling.
SLIM JIM
All this one takes is a red onesie and yellow baby pants. Then cut out a Slim Jim logo, grab some suspenders, and snap into it. Nice to meat ya.
EMOJIS
If there's one thing kids 😍, it's emojis. Dress a few of 'em up as different faces to keep things 😎or let 'em go 🤪. All it takes is yellow tops and bottoms (or brown, if you really know your 💩) and some cut outs. That's it. Piece of 🍰.
COOKIE MONSTER
Me LOVE how easy this one be. Just dress your baby in a blue hoodie, footie, and mittens, put two foam balls at the top, and give 'em some cookies. Yumyumyumyumyum.
SHOP COOKIE MONSTER BABY COSTUME
FRUIT SALAD
With all the candy that's about to get chowed down on, why not mix in something healthy? Coordinated tops & bottoms, some well-placed balloons, and a little felt make it simple to whip this one up.
PILLSBURY DOUGH BOY
I mean, who doesn't want to hear their baby say "hee-hee-hee?" Put your lil one in all white, with a chef hat and a blue dot to get things cookin'. (Or at least, bakin')
SHOP PILLSBURY DOUGH BOY BABY COSTUME
GATORADE BOTTLES
Sure, DIY can drive you to drink. But this is a different kind of drink. A few kids makes this one really work, with everyone dressed as their favorite flavor. Throw on an orange swim cap for the final touch.
ELLIOT (AND E.T.)
Red hoodie. Grey sweats. Then put a basket on their stroller/wagon, bike/trike and you're done. Add an ET doll with a blanket, and throw in some Reese's Pieces to really make it something to phone home about.
SHOP ELLIOT AND E.T. BABY COSTUME
PENCIL
Let's get write to the point. A beautiful yellow dress and a few pieces of colored oak tag paper are a quick way to create a #2 you actually want to deal with for a change.
GUS GUS
Yellow and brown tops and bottoms, plus some creative felting for a hat and ears bring Cinderelly's feisty little friend to life. Just be home by midnight.
WEDNESDAY ADDAMS
White collared shirt, black cardigan, black skirt. Basically, staples of every closet. Accessorize with a middle part, pigtail braids, and a seriously bored-looking face (and throw in a skull or a fake hand on the shoulder) to complete the all-together ooky look.
SHOP WEDNESDAY ADDAMS KIDS COSTUME
RACE CAR DRIVER
All you need for this one is a red top-and-bottom combo and some cutout logos. Super-cute and ready to roll in record-setting time. Vroom vroom.
SHOP RACE CAR DRIVER KIDS COSTUME
MISS CLAVEL AND MADELINE
OK, this one takes a little more work, but it's totally worth it. Blue dress, black dress, collared bodysuit, and some crafty accessories help create something that totally is right.
THE INCREDIBLES
Red PJs and a reversible black swim bottom make this one ready to go at super speed. Just add a felt belt and logo and you're done. Plus the whole family wears the same costume, so this one is great for multiple kids.
RBG
Justice never goes out of style. A black long sleeve dress, a white peter pan collared polo, some lace, and tortoise-shell glasses make this an all-time classic. Case closed.
It's still hard to find a better costume than this. Just dress 'em in a red & white striped PJ top and blue chinos, doctor up a white beanie, and grab some round glasses. There he is!
SHOP WHERE'S WALDO KIDS COSTUME
THE MAN IN THE YELLOW HAT
Yellow shirt. Check. Yellow leggings. Check. Primary has some easy instructions for the yellow hat, and then let 'em hold their stuffed George. Done. No monkeying around.
SHOP MAN IN THE YELLOW HAT COSTUME
KERMIT THE FROG
All it takes for this inspirational, celebrational, muppetational costume is a green zip footie, felt, and styrofoam balls. A cardboard banjo adds some extra Rainbow Connection flair!
SHOP KERMIT THE FROG BABY COSTUME
MR. ROGERS
Cardi sweater, chino pants, and a polo put this look together ina snap, making the Land of Make Believe a reality. Won't you be so happy?
Don't forget, Scary Mommies get 20% OFF at Primary right now, with the code: SCARYMOMMY20.
And get this — Primary even has a "costume concierge" to help you with your DIY stuff — just email diyeasy@primary.com, or call or text 1-833-DIY-EASY. The company was founded by two moms, and these ladies clearly get the struggle. Halloween just got a whole lot less scary.
SHOP PRIMARY HALLOWEEN COSTUMES NOW »
Although we only recommend picks we really love, we may earn a commission on purchases made through links from our site.
This article was originally published on