A US Mom's Experience Traveling Norway By The Most Family-Friendly Train Ever Is Going Viral
"It was the train ride of our dreams," she told Insider.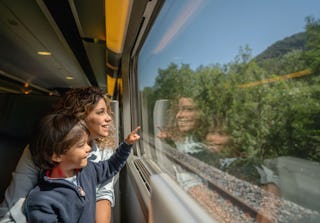 andresr/E+/Getty Images
Traveling with kids is always a toss-up. Flying can be stressful — planning out flight times to coincide with naps and risking delays or cancellations. Driving can be another option, but it also comes with its own hindrances (potty stops every hour, anyone?). An often overlooked option when it comes to traveling with kids is the railway.
While traveling by train may take a bit longer than flying or driving, there is something about the experience that can be pretty magical — especially if it's the Norwegian railway that American mom Kelly Clancy recently took.
In September 2022, Clancy's family decided to travel from New York to Norway. While exploring the beautiful country, she and her husband prioritized seeing the fjords at the very top of their itinerary. The fjords are long, narrow inlets with steep sides or cliffs created by a glacier. They are truly a sight to behold.
So, to maximize their potential to marvel over the fjords, Clancy and her family decided to take the Norwegian railway to Bergen from Oslow.
"It's seven hours through some of the most striking scenery in the world: glaciers, fjords, mountains, and waterfalls. The only catch was that we would need to keep our 8, 4, and 2-year-old children entertained for most of a day on a train," she wrote in an essay published on Insider.
Clancy and her family road on the railway service Vy, which turned out to be a family-friendly dream. The train included a playground, stroller storage, and TVs playing Peppa Pig marathons.
"Each train had a family carriage with room to park strollers and an enclosed two-story soft play area built into the front of the car. The area has floor-to-ceiling windows so you can keep an eye on your kids from your seats if you don't want to crawl in there with them. Inside are well-worn books; our train had Norwegian, Russian, and English offerings and a TV playing Peppa Pig on a loop," she wrote.
The family train car also has cartoon mascots — Bædi and Børdi — who have their own app that parents can download for kids with games and a good kid-friendly menu to peruse. Clancy loved the fact that her kids roamed around with other children from all over the world, too.
As for service, the staff will even warm up bottles and baby food for you in their cafe.
"Traveling this way was a pleasure, in part because my husband and I could sip coffee and enjoy the stunning scenery without hearing every five minutes, 'Are we there yet?'" Clancy recalled.
Vy's family-friendly train experience includes children in the traveling experience, accommodating families, and making them feel comfortable for the duration of the trip. "Instead of quietly sitting still for the entirety of the ride, they can enjoy a developmentally appropriate area where they can climb, play, and make friends," she continued.
The family train car allowed Clancy and her husband to sit back, relax, and ease the worries that many parents feel when traveling with children — like disturbing child-free passengers.
"A little Norwegian child overdue for her nap had a meltdown, and her parents got sympathetic nods and grins from every other family in the car, instead of the eye rolls that happen so often on planes and buses in the US.," she wrote.
According to Vy's website, families are one of the most important groups of passengers on their railway, which is why they created dedicated train cars for them.
"The carriages are adapted to meet the needs of parents with young children. They offer everything you could need, ensuring that luggage, pushchairs, and changing tables are within easy reach. We encourage little ones to play and run around in the playroom, so there is no need to worry about whether you may be disturbing other passengers," the website reads.
Norway's Vy railway is just another example of another country besides the U.S. doing it right when it comes to accommodating families and children for the betterment of everyone.
Imagine if there were airplanes with family-only sections where parents could let their kids roam a little, cry a little, and just be a messy family without feeling shame or getting side-eye. A mom can dream!