The Best Baby Car Seat Covers To Protect Your Precious Cargo From The Elements (And All Those Cheek Pinchers)
We only recommend products we love and that we think you will, too. We may receive a portion of sales from products purchased from this article, which was written by our Commerce team.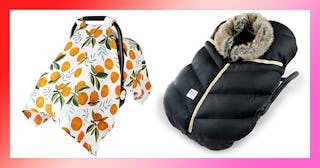 Amazon
Understanding the convenient power of the best baby car seat covers is like joining a secret parents society. (Cue the family quotes from parents who've been there, done that.) Those in the know never think to talk about them. But ask any car seat cover-converted parent, and they will confess to wondering how the hell they managed before it. Even if you don't have a car or you live someplace warm, infant car seat covers are still vital to making new parenthood effortless. (Well, this part of parenting, at least.) Because what you may not realize is that the best baby car seat covers are not only a winter essential — although, let's be frank, they're game-changers in terms of your cold-weather baby gear — they're also indispensable barriers to the outside world you will depend on. Every. Single. Day.
Most baby car seat covers fit effortlessly on infant car seats and many strollers, offering protection from the rain, wind, and snow, but also bugs, sun, and most importantly, keeping them safe from germs. Yup, you can keep all those cheek-pinching baby kissers (and their germs) at a distance without fighting to keep that swaddling blanket strategically placed over baby's carrier. Which, we're sorry to point out, will eventually slide off onto that super clean sidewalk or grocery store floor — yuck!
So stop picking up that dirty blanket and get yourself a nice clean baby car seat cover. There are 100% cotton muslin and UV-protecting sun covers for warm weather. And for you cold weather dwellers, some of the best baby car seat covers are as snuggly as the warmest winter jacket (without the hassle of getting baby suited up in all that winter gear). Because who the hell wants to spend their mornings bundling your LO in multiple layers of baby gear when you really, really need to get out the door? Protect Baby and make your life as a parent easier with the best baby car seat covers for all the elements.
Baby Car Seat Covers For Winter
Baby Car Seat Covers For Summer