The 5 Best Baby Monitors For Camping To Keep Tabs On Your Sleeping Kids
You don't have to go to sleep when they do.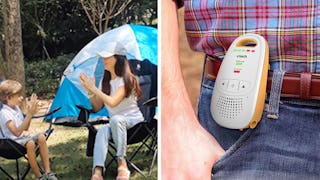 Scary Mommy/ Amazon
We may receive a portion of sales if you purchase a product through a link in this article.
On a Joshua Tree camping trip, I was sitting by the campfire with friends as my two littles slept in our absurdly oversized tent. I didn't bring my fancy WiFi-enabled baby monitor, because you know, WiFi. Instead, I sat close enough to the tent so I could hear/see anything go down. As it turned out, the campfire and our chatter drowned out my crying toddler, so I didn't know that he had woken up until he was making his way shoeless to find me. You know what would have helped? One of the best baby monitors for camping — something I didn't know existed until after that trip.
What To Consider When Shopping For Baby Monitors For Camping
There aren't many baby monitors designed specifically for camping, but monitors that are battery powered can work anywhere — with or without internet and electrical power. They are often audio only, although some portable video baby monitors are battery operated and can also be a good option if you prefer to see what's going on in the tent. Here's what else you need to consider while you shop.
Range: When your kids are asleep in the tent (or camper or RV), you probably will hang out close by — whether it's your own campsite or the one next door, so the range on most monitors — from 700 to 1,000 feet — should be sufficient.
Battery Life: Most battery operated or wireless baby monitors offer anywhere from 6 to 20 hours of battery life, which means you should have enough battery life to last through a weekend (if you're only using them a few hours each night). But if you plan on a longer trip, you'll want to bring backup batteries or a power bank.
Temperature Sensor: When sleeping outside in a tent, it can be tricky making sure your whole family is warm or cool enough. Some baby monitors have a temperature sensor so you can see exactly what the ambient temp is inside the tent.
Two-Way Talk Mode: If you want to be able to talk to your kids while they're in the tent or camper, choose a monitor with two-way audio. This allows you to check in on them (or answer their million questions) without having to get up. If your kids are old enough, you might want to opt for a simple set of walkie talkies that have the added benefit of being useful out on the trail, too.
Scroll on for the best baby monitors for camping so you don't have to keep unzipping and zipping the tent to check on them and risk waking them up — which is the last thing you want to do after finally getting those s'more-loving, dirt-packed, adventurous cuties to sleep. I've also included a game-changing blackout popup tent that helps your kiddos go to sleep earlier and sleep in later (hallelujah!).
In a hurry? Here are the top picks for the best baby monitors for camping:
With the right baby monitor for camping, you can focus on the things that matter most — your child's safety and campfire cocktails. For more camping essentials, check out these must-haves.