The Best Family Tents For Camping, Including One That Fits 16 People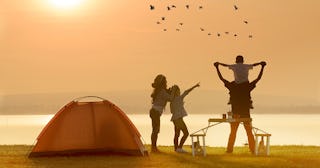 Getty Images/Ittipol Nampochai / EyeEm
Oh, it's on! Yes, it's time to score those family camping tents in preparation for a spring and summer filled with quality time outdoors with your peeps. (And after a full year of sheltering indoors, we'd say some fresh air, peace, and nature are just the remedies the doctor ordered.) Here, our shopping guide for family tents will help you pick the perfect shelter for your crew — whether you're getting out there with a family of 4 or 16 (yes, we included a large family camping tent that literally fits 16 sleeping bags). Some of these tricked-out picks have features like multiple rooms, screen porches, and even instant setup in one minute flat (seriously). All are highly reviewed and available online right now — so grab your perfect tent quick, pack that hammock and your favorite camping mug and you'll be practically ready for your trip.
RELATED: The Best Baby Camping Chairs To Keep Your Kiddo Contained In The Great Outdoors
While these family tents might not protect you from the corny jokes for kids that Dad will undoubtedly tell all weekend, they will keep your whole fam cozy while you spend time outdoors. Time for a family camping trip, Mama! Can't you smell the marshmallows roasting already?
RELATED: 12 Summer Camping Activities And Games The Whole Fam Bam Will Love
Best Family Tents
Best Large Camping Tents
Best Large Camping Tents With Rooms
This article was originally published on