The 11 Best Bath Bombs For Kids to Make Bathtime Fun & Easy (ish)
We only recommend products we love and that we think you will, too. We may receive a portion of sales from products purchased from this article, which was written by our Commerce team.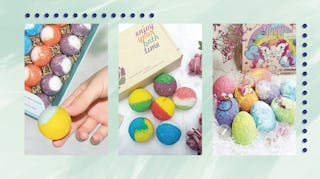 We've all been part of the same nightly scene: Your little one negotiates for just 5 more minutes of playtime before they have to go to the dreaded bath. And once they're in? They don't want to get out. Here's what you need to do: Toss in a bath bomb. Even the mere mention of a bath bomb will get your kid scrambling for the tub. And the best bath bombs for kids not only add exciting fizziness to the bath, they're also made with nourishing ingredients, soothing scents to aid in bedtime, or include a surprise toy inside for the most bath-resistant kiddos.
Which Bath Bombs Are Safe For Kids
Fun is basically guaranteed, but you may be wondering about safety, and yes, bath bombs are generally considered safe to use, according to Poison Control. Bath bombs are typically made of baking soda, citric acid, and maybe Epsom salt, and often essential oils, fragrances, and glitter or dyes as well. Keep an eye out for skin irritation from any of those extras, like essential oils or dyes, if your kiddo has sensitive skin. It's also a good idea to use bath bombs occasionally — not every day — and rinse off of your kid's skin and the tub when bath time is over.
What To Look For When Shopping For The Best Bath Bombs For Kids
A big thing that that sets one bath bomb apart from another is the toy that comes with it. Many bath bombs now dissolve to real toys inside, and you can have fun customizing to your kiddo's interest, from dinos and unicorns to safari animals and more. But it's important to note that these trinkets can be choking hazards for little ones, so it's best to give them to kids 3 years and up safe for kids 3 years old and up, since they're less likely to put toys in their mouths. If you're concerned about sensitive skin or plumbing issues, go for a simpler bath bomb with fewer ingredients; look for dye-free or fragrance-free options.
With all this in mind, keep reading for the best bath bombs for kids. Bath time is about to get a whole lot easier — and fun — for both of you.
In a hurry? Here are the top picks for the best bath bombs for kids.
1. The Best Dinosaur Bath Bombs: STARYAR Bath Bombs
2. The Cult Fave With 25,000 Reviews: INTEYE Bath Bombs Gift Set
3. These Simple Lavender Bath Bombs: Lagunamoon Organic Bath Bombs