The 17 Best Toys For Fine Motor Skills
We only recommend products we love and that we think you will, too. We may receive a portion of sales from products purchased from this article, which was written by our Commerce team.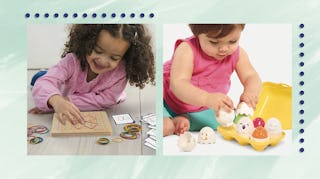 Learning to use their hands, thumbs, and fingers is an ongoing challenge for children ranging from babies with rattles to preschoolers coloring with crayons. Like many lessons, kids develop these abilities via play. The best toys for fine motor skills are so entertaining and absorbing that your child won't even notice they're "working." Scary Mommy reached out to Pediatric Occupational Therapist Emma Hubbard to learn more about the must-have toys for strengthening fine motor skills.
The Expert
Emma Hubbard is a pediatric occupational therapist with over 12 years of clinical experience. She received her Bachelor's Degree in Occupational Therapy from the University of Newcastle. She is also the founder of Brightest Beginning, a website and YouTube channel dedicated to helping new parents by sharing her knowledge and experience on all things related to child development, sleep, toilet training, feeding, and more.
What Toys Help Develop Fine Motor Skills?
To start, it's helpful to better understand what fine motor skills entail. Hubbard says that these skills are critical in preparing children to independently "feed themselves, get dressed, brush their teeth and hair, open containers, draw, and write."
Like any new skill, practice makes perfect. Hubbard recommends providing kids with toys that "encourage a child to use small finger movements" and are "appropriate for their development" to avoid frustration and provide a just-right challenge.
What To Look For When Shopping For The Best Toys For Fine Motor Skills
To help you find the right toy for where your kiddo is at developmentally, here's what you need to know about emerging skills for the toddler and preschool age range.
For Toddlers
Building on skills from babyhood, toddlers continue to refine their ability to pick up small objects with their thumb and index finger, explains Hubbard. They are also learning to accurately place a small item into a small container or object, and "how to rotate their fingers and wrist for accurate placement."
To strengthen these skills, Hubbard recommends a variety of toys, including those that involve stacking and sorting, play dough, building block toys, and large beads for threading.
For Preschoolers
Preschoolers are ready to begin working on self-care skills that engage key fine motor skills, like using buttons on a shirt, and skills that will get them ready for kindergarten, like the ability to use scissors, according to Hubbard.
She says preschoolers benefit from toys including "threading and lacing toys, puzzles, play dough, drawing implements, Lego and [other] blocks, dolls with dress up clothes, and imaginative play kits." But they also benefit from toddler-recommended toys, as they are "further developing their hand-eye coordination, finger strength and ability to isolate their fingers to complete intricate tasks."
Using Hubbard's advice, we've rounded up the best fine motor skills toys that will entertain your kids (and exercise those little fingers), with everything from STEM-based toys to more open-ended and creative picks.