The Best Cube Storage — So You Can Finally Stay Organized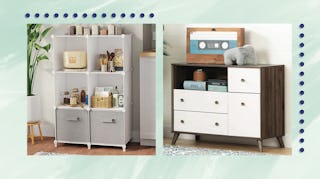 Scary Mommy/Amazon
We may receive a portion of sales if you purchase a product through a link in this article.
Keeping a home neat is not an easy task. Why is that? No sugarcoating: Because most households have way too much stuff. While decluttering helps, you need structure to keep things tidy. The best cube storage creates an easy-to-use system that corrals everything and is often even customizable to suit your needs as they change. Whether it's your kid's ever-growing toy collection, clothes and shoes, cleaning and craft supplies, or stuff you actually want to look at like family photos and vacation souvenirs, cube storage units can help you make sense of it all. Finally.
What Is The Best Cube Storage?
The best cube storage unit is the one that fits your specific needs, but here are a couple more quick things to consider when finding the right unit for your space:
Assembly: Worried about your handyman skills? The best cube systems can be assembled with minimal tools and effort, or without ever touching a tool at all. Once you've got it built, just throw in a couple of bin inserts and you'll be in KonMari heaven.
Material: Most cube storage is made from metal or an engineered wood. Metal furniture is durable, fairly affordable, and easy to wipe clean; keep in mind it can also be heavy, and popular wired metal designs can look more utilitarian than other options. Engineered wood, like particle board or medium-density fiberboard (MDF), has the advantage of being affordable while giving the more traditional look of wood, though it's not as durable as solid wood and more susceptible to water damage. Plastic cube storage will likely be the most budget-friendly option.
Modular: Cube storage with a modular design is versatile and can be assembled in different shapes to fit your space, and you can add on to it as your collection of things grows or even separate it into different areas. On the other hand, standalone cube storage comes in sturdier, non-adjustable designs and often adds a more polished look to a space.
With all that in mind, keep scrolling for the best cube storage options around. And don't forget: You may want to consider anchoring sturdier cube storage units to the wall.
In a hurry? Here are the top picks for best cube storage.
1. The Best Large Cube Storage: Better Homes and Gardens 12-Cube Organizer
2. The Best On A Budget: HOMIDEC Cube Storage
3. The Cult-Fave: Amazon Basics 6-Cube Wire Grid Storage Shelves
4. The Best Cube Storage With A Door: Way Basics Cube Cubby Organizer With Door