The 8 Best Footmuffs For Strollers — So You Can Keep Those Little Toes Toasty
You'll wish they made them for adults.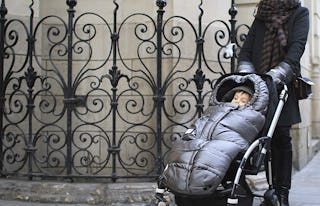 Amazon
We may receive a portion of sales if you purchase a product through a link in this article.
Colder temperatures mean it's time to layer up on gear, for both you and your baby. Whether that's extra jackets, stroller blankets, hats, or more, going out in the winter just requires a ton of planning because it takes So. Much. Stuff. One thing that can make any outing a little easier for you, especially if you have a baby or toddler, is a footmuff, or bunting bag. These handy products are essentially weather-resistant sleeping bags that can be attached to your stroller, keeping your little one tucked warmly inside for those chilly day walks. They are insulated and have zippers for temperature control, which may save you some time from having to constantly wrestle a big puffy jacket on and off your tot. That alone is probably worth the price.
Are Stroller Footmuffs Universal?
Stroller footmuffs have features like anti-slip backs and harnesses that make them compatible with most strollers (double check to make sure it's a universal one), so you don't always have to worry about getting a specific footmuff for a specific stroller. That said, if you're loyal to certain brand like UPPAbaby or Thule, there are footmuffs below specifically designed for those models.
What Age Do You Stop Using A Footmuff?
Stroller footmuffs come in infant and toddler sizes, and some even feature expandable zippered designs that grow with your child. With a zippered expandable design, some can even extend to fit a child up to 4 years old, so you don't have to buy a new footmuff each year.
Ahead find eight of the best stroller footmuffs to keep your little one warm and cozy, plus a pair of stroller gloves to for you, too. Because unfortunately, they don't make stroller footmuffs in adult sizes.
In a hurry? Here are the top picks for the best footmuffs for stollers:
The Best For Infants: Skip Hop Stroller & Go Footmuff
The Best Universal Footmuff: Cozyme Waterproof Stroller Bunting Bag
The Most Splurge-worthy: 7AM Enfant Blanket 212 Evolution Stroller Footmuff