The Coziest Winter Hats Your Toddler Will Never Want to Take Off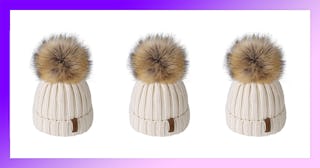 Amazon
Toddlers have cute little toddler heads, and they need cute little toddler winter hats to keep those noggins warm when it's cold outside. We know you don't want them feeling sad and cold in the winter, so we've put together a list of some super cute, cozy, and functional winter hats for toddlers that they'll actually be willing to wear. (Hopefully… but no promises, kids do what they want—as you know.) Winter is officially upon us, so make sure you're ready with your toddler winter boots, kids umbrellas, warm toddler sleep sacks, and more — it's already snowing in some states and pouring rain in others, so it's probably going to be a cold one this year!
Included are winter hat options for boys and girls, but of course, your child can wear whatever color or style they want. We're also including a selection of hats with ear flaps for climates that get insanely cold in the winter. And a win-win for kids — ear flaps also give them ample opportunity to pretend not to hear you and actually get away with it.
So, if you're shopping for winter hats for your toddlers, this list should have you covered. Because ready or not, winter is coming.
Toddler Winter Hats for Girls
Toddler Winter Hats for Boys
Toddler Winter Hats with Ear Flaps