18 Gadgets On Amazon That Are Actually Genius
by Team Scary Mommy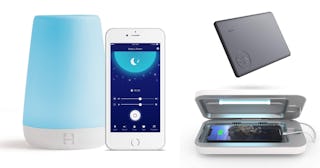 Amazon
Sometimes, you don't know you need something until you see it right in front of you. You surf the internet for hours for the perfect "out of the box" gift for someone or for yourself and…nothing. The thing about finding weird and super cool gadgets is that you have to know where to look. Amazon, for one, is the perfect place to find cool gadgets. We know it's a lot to go through, so we've made a list of some truly genius gadgets you can purchase on Amazon. Some are cheap gadgets and others are a little on the pricier side, but trust me, it's ALL worth it.
So just to warn you, your Amazon cart is about to get really full. From wine holders for the shower to automatically syncing notebooks, it's no surprise that Amazon really does have it all. You have to ask yourself, "who would even think of making a wearable nail polish bottle holder??" But yep, they've got cool gadgets like that too. Not all are electronic or techy (although there are some super cool ones!). There are beauty tools, cookware, and just plain 'ol practical and useful stuff. Check out our list of the best (and the coolest) odd gadgets and knick knacks found on Amazon.
Life is about to get so much easier.