The 20 Best Bookshelves For Little Readers (& Beautiful Displays Of Family Favorites)
Get those books off the floor.
by Anna Baboval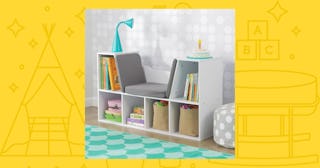 We may receive a portion of sales if you purchase a product through a link in this article.
We know reading is good for kids, but there comes a point when the piles and the bins of books get to be too much. So, it's time to put up a kid-friendly bookshelf. Kids bookcases can do more than just provide cute storage for our growing home libraries, they can encourage kids to fall in love with reading while giving them a space that's their own, even in the middle of our grown-up living room decor. Whether it's mounting shelves for books in the nursery, investing in proper kids' storage for the playroom, or finding a book shelf that's matched to their height, your LOs will love having a place to store their favorites.
Kids' bookshelves can also work as toy storage by putting bins on the bottom shelves so all the books and toys are together. Or they can be simple and decorative while doubling as a reading nook for bigger kids. The possibilities are endless for a concept that's so simple! Our best piece of advice: Buy in anticipation of things to come. If all of the books fit perfectly now with no room to grow their collection, by the next holiday or birthday the piles on the floor will return.
We've compiled our favorite book storage solutions for all the rooms in the house — it's not like they actually keep their books (or anything else) in just one place. (P.S. If you have a tiny ninja on your hands, don't forget to secure their bookshelf with furniture anchors for safety.)
The Best Bookshelves For Nurseries
A Bookcase That Looks Like A Tree
How adorable is this tree bookshelf? This mountable Babyletto spruce tree bookcase will help add even more character to your little one's room. And if you're going for a jungle theme, it comes in green, too!
Helpful Review: "We absolutely love the look this bookshelf gives our baby girl's room. We put it above a Kallax shelf (safely secured to the wall) against a dark eggplant color wall. It gets a lot of compliments. Highly recommend."
Dimensions: 6 x 41.13 x 51.13 inches (L x W x H)
This Bookcase With Cubby Storage
This bookshelf that doubles as toy storage is accessible and great for teaching little ones how to keep their things tidy. This bookcase/organizer has three tiers with space for their books right on top. The included storage bins add a little extra flair with a couple of adorable pets on the front. They're removable too, so if needed, you can use that extra space for your kiddo's growing book collection.
Helpful Review: "We LOVE this! My children love being able to easily access their books. I have a 3yr old and a 16 mo old. We have had it for about a month and it has held up with my little destructive crotch goblins. IMO it is very sturdy, the right amount of thickness, and I believe it is very good value for money!"
Dimensions: 11.75 x 32.5 x 38.25 inches (L x W x H)
This Sleek & Stylish Nursery Bookcase
The low, tilted design of this nursery bookcase by Babyletto is a great safety feature for curious climbers. The lower shelf is deep enough to hold large storybooks and has a bar to keep things neatly tucked in place. The upper shelf is perfect for displaying your child's favorite books and toys and is easy to reach.
Helpful Review: "Absolutely beautiful and sturdy. Excellent for organizing children's books. Classical style so will be a piece to keep for years. Assembly requires two people."
Dimensions: 40.5 x 16.5 x 35.5 inches (L x W x H)
This Portable Bookshelf With A Learning Feature
This bookcase is small but mighty. It features two sides with room for up to about 40 books — divided by a carrying handle that makes it easy to move around. Eco-friendly, handmade, and non-toxic are just a few more reasons to fall in love with this portable bookcase. Oh, let's not forget about the adorable — and removable — time-teaching clock on the end that's pure genius.
Helpful Review: "I got this book box for my daughter's nursery. It shipped very quickly and was pretty easy to assemble. It holds a lot of books and is bigger than it seems in the photos."
Dimensions: 13.8 x 21.7 x 12.2 inches (L x W x H)
This Set of Floating Book Shelves
Compared to adult bookshelves, nursery wall bookshelves like this one by Wallniture are smaller in size but still hold an appropriate number of books. Setting them up near a nursing rocking chair will make choosing a book for story time super convenient. They would also be perfect in the living room, playroom, or even in a bathroom.
Helpful Review: "We had some small wall sections in our nursery that I didn't want to go to waste. I needed book storage as well. I am so glad I found these. They are super easy to install and can hold a decent number of books. I love the ease of access as well. Very helpful for a distraction when those diaper changes aren't going well!"
Dimensions: 3.5 x 15.8 x 3.8 inches (L x W x H)
This Rolling Nursery Bookcase
Here's a sweet cloud-themed bookshelf that's designed to be within reach as your precious baby becomes a curious toddler. Though compact, the four shelves hold plenty of books, and the hook on the side is a convenient spot for hanging stroller books. Plus, the whole thing is on casters so it can easily be moved around.
Helpful Review: "I have been looking for a cute and spacious bookshelf because my baby has so many books and this is the perfect one!!! Love the handles that allow her to swivel it around and move it around as she pleases! This is literally so cute and so worth it!!"
Dimensions: 23.62 x 20 x 23.7 inches (L x W x H)
The Best Kids' Room Bookshelves
This Corner Cubby Bookshelf
This corner bookcase is a space saver. It's designed to fit into the corner of a room and is large enough to hold quite a bit of toys and books while still being relatively compact. Of the nine cubby spaces, six can hold standard-size cubby storage bins so you can neatly stow away all of your child's toys and everyday necessities like wipes and diapers.
Helpful Review: "I love this! We put it in our son's nursery with 6, 11x11 inch bins, and it's perfect! It was easy to put together with 2 people, and it's awesome! We store diapers, bibs, toys, socks, receiving blankets, stuffed animals, etc. [...]."
Dimensions: 10.88 x 31.62 x 37.31 inches (L x W x H)
A Bookcase With A Built-In Reading Nook
This bookcase with a cozy built-in reading nook is perfect for our kiddos to curl up with a good book. The padded seat sits atop four cubby spaces, with two additional ones on either side, adding up to tons of storage space for books and more. Available in white, espresso, and natural, it's sure to fit in with any room decor.
Helpful Review: "Quick and easy assembly. My son loves his new reading nook and is excited to have a special place to read. The quality is amazing for the price. It is sturdy and well designed. Would definitely recommend!"
Dimensions: 8 x 46.46 x 15.16 inches (L x W x H)
An Adorable Nursery Bookcase That Looks Like A Cactus
Okay, we're totally obsessed with this sage-green cactus bookcase by Babyletto! It features eight shelves in total — great for displaying and organizing books, toys, and decor. It's the perfect size for toddlers and big kids alike. Crafted with powder-coated steel, it's a sturdy piece that will last. If you're looking for a stylish statement piece in your LO's room — this is it!
Helpful Review: "Expensive, but durable and really cute."
Dimensions: 8 x 46.46 x 15.16 inches (L x W x H)
This Multi-Purpose Nursery Bookshelf
Designed with organization in mind, this multi-purpose bookshelf is a no-brainer for any nursery. The top row features three standard-sized compartments that's great for holding books, while the middle row comes complete with storgage bins for smaller items. The bottom shelf is ideal for larger items like baskets, stuffed animals, blankets, and even oversized books. We love that it also comes in three finishes — white, grey, and espresso — to fit in with any room's look.
Helpful Review: "I purchased this cubby to help keep my grandchildren's toys organized and easily accessible. The directions were very easy to follow and assembly was a snap with 2 of us working together. We love it and may order a second for the upstair playroom. I used baskets on top to add even more storage for blocks and cars."
Dimensions: 15.75 x 36.75 x 37 inches (L x W x H)
The Best Bookshelves For Common Spaces
A Petite Book Caddy With A Shelf
Perfect for tucking beside the couch or armchair, this UTEX book caddy looks great in any room of the home. We love the angled shape of the caddy that makes books easy to access. The bottom shelf is ideal for storing smaller items. Available in navy or grey, this branches out from traditional furniture colors to bring a little pop to a space while also remaining quite neutral. 
Helpful Review: "My toddler likes having her books lined up but is too young to put them on a traditional shelf on her own. I finally stumbled across this bookshelf as a solution. It arrived very quickly. I assembled it with the "help" of my 22 month old in about 15 minutes. We've had it for long enough now to know we love it. My daughter can easily put her books away unassisted. She doesn't make a mess when looking for a particular book. The shelf is also great for her wooden puzzles that are a bit too long for the shelf that holds her toys. Simply put, we love this shelf and would definitely recommend. Every parent we know who has seen this shelf has expressed a desire for one of their own."
Dimensions: 16.5 x 25 x 16.5 inches (L x W x H)
This Modern Tree Bookshelf
This bookcase is not a nursery bookshelf per se, but it sure would look good in any modern child space. Because it's crafted from bamboo wood with a natural, water-resistant finish, it can take a bit of beating from everyday use by kids. Just make sure it's safely secured to the wall since the tree design might entice little climbers when reaching for books and toys — or just playing Tarzan.
Helpful Review: "Great bookshelf! We are using for our baby's picture books and it was super easy to assemble and holds lots of books of varying sizes."
Dimensions: 7.4 x 17.3 x 39.3 inches (L x W x H)
The Best Playroom Bookshelves
A Montessori-Inspired Bookshelf
This display bookshelf is perfect for small spaces at just under 3 inches deep. It mounts to the wall and with 4 tiers, there's plenty of space for an entire book collection. It's sturdy, handmade, and has an alphabet decoration that doubles as a teaching aid for your kiddo. A Montessori must-have.
Helpful Review: "Great bookshelf! We are using for our baby's picture books and it was super easy to assemble and holds lots of books of varying sizes."
Dimensions: 30.3 x 2.8 x 45.3 inches (L x W x H)
A Bookshelf With Cloth "Shelves"
This small and sturdy book storage rack features cloth "shelves" with adorable animal prints (seven to choose from) that, surprisingly, can hold a good amount of books. It's ideal for little ones who are ready to learn some independence skills, like reaching for and putting away their own book collection. The cloth can be spot-cleaned — because sticky little fingers are just a toddler thing.
Helpful Review: "This is a cute little book case! We wanted something just to get the books off the floor and it's perfect! Some of the reviews say it's smaller than expected but we didn't want something too large. Our 9 month old loves the books being available at her height! I love this line of fabrics and patterns (we also have the owl you box)."
Dimensions: 10 x 24.5 x 24 inches (L x W x H)
A Swiveling Bookshelf That Looks Like A Dollhouse
On the lookout for a nursery bookshelf and a dollhouse? This rotating bookshelf that looks like a dollhouse might be just what you're looking for. It has practical and adorable features like a sturdy, swivel base and a roof and windows. The center shelves are roomy enough to hold large books while the end shelves can hold smaller books and toys — or just use as a dollhouse. It's made from 100% solid pine wood and features steel ball bearings so you can be sure it's made to last.
Helpful Review: "I love this bookshelf, and my child does too! It's actually really easy to assemble, and we were able to do so in about 15-20 minutes. Very sturdy, looks great, and holds LOTS of books. In fact, one side was able to hold almost all of her books! We need more books now!"
Dimensions: 12.6 x 23.2 x 45.7 inches (L x W x H)
This Space-Themed Bookshelf
Kids who are into space and brightly-colored designs will go crazy for this rocket ship bookcase. The fun design is engaging for kids but also manages to be quite functional with 3 large shelves and a pull-out storage drawer at the base. It even comes with a tip restraint kit — a much-needed feature with small kids.
Helpful Review: "Love this bookshelf for space themed room. Has a drawer at very bottom. Very simple to put together. Packed well and arrived in perfect condition. Not too big and not too small."
Dimensions: 11.5 x 24.5 x 40.13 inches (L x W x H)
The Best Bookshelves With Storage
A Bookshelf With Storage Drawer
This adorable bookcase would look great in any nursery space. The minimalist design lends itself to an array of decor styles. But it's not just great to look at, it's functional, too. Two large open center shelves can hold books, baskets, toys, and more, while the drawer is ideal for storing diapers and any other items you may want to keep out of sight. The top display shelf features side and back edging to keep things like photos and trinkets from falling off.
Helpful Review: "I bought this shelf for miscellaneous things in my daughter's room. It holds quite a bit and I love the look of it. I put it together by myself and spent a little over an hour on it. I thought all the pieces for the assembly were well organized and labeled with instructions being quite clear even with just them being images. This piece is on par with IKEA pricing and looks, but much easier to assemble."
Dimensions: 12 x 24 x 37 inches (L x W x H)
This Magic Garden-Themed Bookshelf
This wood bookshelf features a beautiful garden theme with butterflies, smiling daisies, and a friendly snail. The vibrant colors and whimsical illustrations instantly add charm to a child's space, and you'll appreciate the three shelves and two drawers for storing books and favorite toys.
Helpful Review: "Easy to put together, and solid construction. Ridiculously cute and a huge hit with my toddler who loves all things books and nature!!"
Dimensions: 11.5 x 38 x 22 inches (L x W x H)
A Bookshelf For Paw Patrol Fans
Add some extra fun into your little one's room with this Paw Patrol-themed bookshelf and toy organizer. There's a book rack on top, three large bins, and two extra-large bins. The frame is wood and the bins are fabric, making them lightweight enough for even your littlest ones to handle.
Helpful Review: "It is small but wow does it hold a lot of toys! [...] The middle row has decent-sized bins and the bottom bins fit a boatload of small toys and beanie babies. We were able to get so much off the floor and out of other more bulky storage containers. Plus it's cute. Putting it together took about 5 minutes."
Dimensions: 10.5 x 36 x 30.5 inches (L x W x H)
A Freestanding Metal Bookshelf With Storage
This freestanding metal bookshelf features three upper shelves for storing books. The two open lower shelves offer tons of room for stacking games and stuffed animals, or for cubby storage. It's sturdy and the non-skid base helps it stay in place. Choose from four neutral colors.
Helpful Review: "We use this as our bookshelf for all things Homeschooling. It works great and holds ALL of their books and binders. It doesn't take up too much real estate which is great. It's very sturdy and serves it's purpose. I'm very happy with this buy."
Dimensions: 11.8 x 32.3 x 38.2 inches (L x W x H)
Looking for more great organizational ideas to create their perfect space? Check out all of our mom-approved kids gear.