The 12 Best Kids' Shoes For Flat Feet — According To A Podiatrist
We only recommend products we love and that we think you will, too. We may receive a portion of sales from products purchased from this article, which was written by our Commerce team.
by Lauren Beach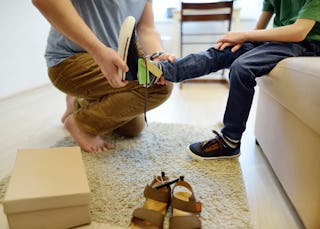 Shutterstock
Having flat feet is common in younger kids and some children never outgrow it. Choosing the right footwear is essential, even if your kiddo's flat feet don't bother them or cause pain. The best kids' shoes for flat feet prevent the foot from rolling inward while walking (called overpronation), which can strain muscles in the legs and feet. Scary Mommy asked New York-based podiatrist Dr. Suzanne Levine for help in choosing the best shoes for supporting those little ankles and growing feet.
The Expert
Dr. Suzanne Levine, D.P.M., RPT, PC, is an aesthetic podiatrist and board-certified podiatric foot surgeon specializing in aesthetic foot treatments and non-invasive procedures at her practice, Millennium Podiatry in Manhattan. Dr. Levine is a graduate of Columbia University, has written multiple books, and has been named one of New York's top podiatrists by New York magazine. She co-chairs the International Aesthetic Foot Society.
Why The Right Shoes Are So Important
Dr. Levine explains that all babies are born with flat feet and, "the arch develops over time and will change, and can even be covered with baby fat." But if you kiddo is one of the roughly 5% who don't grow out of their flat feet, supportive, well-fitting shoes are key.
Choosing supportive shoes can make a long-term difference in how your child's foot develops by helping the arch and foot form properly. Dr. Levine says, "By restricting motion, you are eliminating the deforming forces that affect the forefoot." She recommends seeing a podiatrist if your child suffers pain or any of the other complications associated with flat feet like "back pain, knee pain, neuromas, plantar fasciitis, juvenile arthritis, and juvenile bunions."
According to Dr. Levine, choosing well-structured shoes that fit properly is critical so that children with flat feet "don't over-pronate and [cause] problems with their knees, hips, and back."
What To Look For When Shopping For The Best Kids' Shoes For Flat Feet
Things to look for include a supportive yet flexible sole, laces, or adjustable straps for a snug (but not tight) fit. According to Dr. Levine one thing you definitely want in a shoe is good arch support. She says it's also important to "pay attention to width, especially in the toe box."
Want to know what to avoid? Dr. Levine has a list of no-gos including, "anything flimsy, Converse, ballerina [flats], flip flops, super-flat sandals, or jellies."
With all that in mind, it's time to find the right footwear for your flat-footed kid. From sandals for the splash pad to sneakers for the playground (grab some socks too!), check out our picks below, including one of Dr. Levine's favorites.