12 Best Outdoor Swings For Kids Of All Ages— Cue The Fresh Air & Fun
We only recommend products we love and that we think you will, too. We may receive a portion of sales from products purchased from this article, which was written by our Commerce team.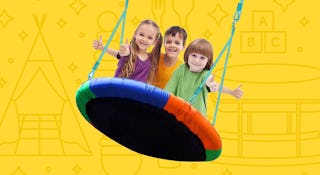 Outdoor swings provide the screen-free fun your kids need, especially with virtual learning and quarantining keeping them (mostly) indoors. We all have happy childhood memories that involve being on a swing— tire swing, swing set, rope swing, etc. That carefree feeling of the wind in our hair and the tickle in our stomach as we go higher. Combine that with running through sprinklers and a cold glass of lemonade — summertime! It's only natural that we pass this love of swinging onto our kids. It's not a coincidence that they're the most sought-after playground toy (they even beat out the wavy slide and monkey bars). Whether we're playing at the playground or on our own backyard swingset, the magical yet simplistic design of a good old swing can entertain our kids for hours.
RELATED: The Best Toddler Chairs For Keeping Your Kids Comfy— And In Their Own Zone
Swinging is fun and also delivers on both mental and physical benefits (for moms too when pushing — triceps ladies!). This source of play does everything from teaching body awareness to building gross motor skills to providing a calming sensation, especially for kids with Autism Spectrum Disorder, ADHD, anxiety, or a variety of other mental or physical disabilities.
RELATED: Fun Outdoor Games For Kids To Help Burn Off That Sugar Rush
Our kids don't need (or care) to know it's good for them, right? They just want to have outdoor play in the sunshine, have some independent fun, and spout a few kid-friendly jokes after their sibling doesn't stick the landing on that "cool" jump-off. And we mamas want some well-deserved outdoor quiet time for a change. So tell the kids to leave the tablets, RC trucks, and cool magnetic toys inside — it's time for you to take a reading break and send the whole family outside to the swings. Heck, the big kids can even get in their reading time in while on the swings!
This list of the best outdoor swings for kids will help you upgrade your current swingset for the bigger kids and add a few new tree swings around the yard. Because, well mama, it's time. Have little ones that just made it out of the travel crib? We've got outdoor baby cribs for them too. Spread them out — less fighting = more relax time for you. We've got 12 swings for you to choose from. Lemonade not included.
Best Baby Swings
This swing has an average of 4.8 stars, so we'd definitely say it's parent-approved! This is a great pick for little ones transitioning into toddlerhood, and with a weight limit of 50 pounds, it should last them for a few years. A front restraint made of plastic and secured with buckles keeps kiddos extra secure as they soar toward the sky, and a weather-resistant seat is sturdy in inclement weather and makes cleanup a breeze. Overall, the concept is simple, but it's a clear winner.
Looking for a swing that'll last a long time? This CCTRO swing can stick around until your kiddos are teenagers. You can easily adjust the height of this swing, and the overall assembly is a breeze. And, the plastic and nylon it's made out of can hold plenty of weight — 300 pounds, to be specific. This is a great swing if you've only got one child, or have children who are very close in age. You can buy it in blue, green, and red.
Looking for a swing with a high back to help accommodate a toddler? This premium swing from Squirrel Products has been made with young kids in mind. This model even has plastic-dipped brackets, to help prevent tiny hands from being pinched. With 4.8 stars out of 5, parents are pretty happy with this swing. "The high back is nice and the extra roomy leg holes are appreciated because it makes it much easier to get [my grandson] in and out unlike other bucket swings," said one grandmother on Amazon.
How cute are babies at the playground in these big bucket swings? It just begs for a photo op. Eastern Jungle Gym brings the playground home by creating a fully assembled polyurethane high back swing seat for your baby. Installation is super easy, just unbox and hang up on your metal or wooden swing set in replacement of a swing for bigger kids. Once up, plan on leaving it for a while. This seat is good for babies and toddlers from age 6 months to four years. The yellow-coated chain prevents pinched fingers allowing us mamas to be worry-free, even when our LOs start swinging themselves.
Best Toddler Swings
Toddlers have no concept of weather, they just know what they want to do and they want to do it NOW! Sound familiar? With Sportspower Indoor/Outdoor Swing your LO doesn't have to wait for Mr. Sun to enjoy the benefits of swinging. An indoor swing for kids is not an easy find after the baby stage unless you want it hanging from the ceiling. Trust us you will thank us for finding this one! Some assembly is required; Pro-tip: get a second person who is not your toddler to help. Easy to fold up and bring either inside or out this mobile swing set will provide hours of entertainment in the living room, on the porch, or even on vacation for kids up to 55 pounds. One mom we know set it up so she could sit on the porch enjoying the sun while pushing her LO in the shaded area. Instant relaxation for both. Smart move, Mama!
With over 2,300 reviews, the Little Tikes 2-in-1 Snug 'n Secure Swing is a hands-down mom favorite for toddlers. Designed to work for kids from ages 9 months to 4 four years, this swing is both small and mighty. It contains the safety features of a baby swing but is durable enough to withstand both the elements and whatever our preschoolers drum up. As our kids get older, or if you plan on using this for multiple children, the adjustable straps can be removed to accommodate bigger kids. Starting the habit of outdoor play can set our kiddos up for a lifetime of good habits. Little Tikes notes, "In general, children who spend time outside tend to be more curious, stay with a task for a longer time, and are better at self-directed play. By encouraging your child to swing and spend time outside, you help them to develop the skills they need in the classroom and the boardroom."
If you're looking for a swing that's as fun to look at as it is to use, this wooden horse is it! This design by DILIMI is a perfect way to make sure your toddler is comfortable while swinging. Made from pure cotton canvas and smooth wood, this swing is as sturdy as it is cute, and ideal for kids between the ages of six months and three. It can hold up to 220 pounds and is easy to assemble.
The ultimate swing for kids is this one that can grow with them from infant to teens. This Jaketen 3-in-1 Toddler Swing Seat is brightly colored, large, durable, and designed with multiple removable and adjustable parts. Available in both green and blue, it's sure to add a fun pop of color to any backyard. "It's very easy to assemble, the plastic is very sturdy," one Amazon reviewer praised. "The design will make it easy to put [my granddaughter] in the swing and hold her in place with the back on and the front section for her legs to ensure there are no spills, there is even a small belt attached to the back to help. This is a great swing."
Best Tree & Rope Swings For Older Kids
This outdoor swing is a great option for a bigger kid. They'll have the option to sit or stand while on the swing, doubling the fun. The rope is sturdy yet gentle on the hands, and it's adjustable to ensure it's the right length for your child. "This is such a fun toy!" said one mom on Amazon. "Even the rope is rainbow and it's very sturdy. It comes with the whole setup to hang from a tree which I wasn't expecting at this price. It's such a deal. Oh, and even I can climb on it at over 150lbs. One of my best Amazon purchases to date!"
Picture this: A brisk summer day with zero percent rain, just sunshine. While you're pulling weeds in the backyard, your kids can entertain themselves with their brand-spankin' new backyard tree swing. This flying saucer-like fabric swing comes with two swing straps to make it extra durable (perfect for a party of two or three!). Whether they ride it belly side down or with legs dangling over the edge, they're guaranteed to have a good time. Shares one Amazon customer, "The swing arrived quickly and with easy to follow instructions. It took me all of an hour put together and hang, mostly because my toddler was trying to 'help'. It's sturdy we both swing on it and she loves it. I have to drag her off most times."
The Sorbus Spinner Swing is circular in design with a full mat platform, which lets it serve as a chair swing, a hammock, and a swing for playsets all while encouraging balance development and imaginative play. The 24" size will fit nicely on any preexisting playset you already own and is perfect for one child ages 5 and up. The 40" size means friends can play too! Good for 2-3 kids and up to 220 pounds in total, kiddos can make this their mobile hotspot all summer long. Swinging, spinning, or just sitting and reading, this swing can be set up almost anywhere you kids want to hang.
Ever want to swing from a web? We might not have even a third of the grace of a spider, but Web Riderz can somewhat satisfy that dream. Sort of. This rope swing can hold up to 600 pounds, so your older kids can swing with a few friends. Have multiples? Then, this swing can offer up some peace and quiet. "Bought it in hopes of getting my kids outside this summer to use our swingset more before they are officially too big for it," one Amazon reviewer said. "This has absolutely done that! The sound of laughter when all 3 of my kids play on it without fighting. Well worth the cost! I wish we had it when they were younger!"
Looking for more family-friendly outdoor fun? Check out all of our mom-approved kid gear for guaranteed summertime fun!
This article was originally published on