The 10 Best Pottery Wheels For Beginners – So Good, They're Pretty Much Meltdown Proof!
We only recommend products we love and that we think you will, too. We may receive a portion of sales from products purchased from this article, which was written by our Commerce team.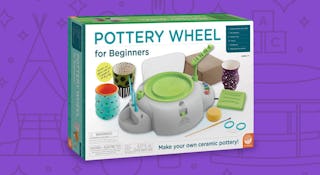 If you're looking for hobbies that engage our child's creative spirit without encouraging crayon colorings on our walls, getting a pottery wheel for beginners may be the right move while we're stuck at home. Pottery wheel for kids specifically can yield a lot of independent, creative time with minimal investment. Pottery making for kids can lead to improved self-esteem and gross motor skills, as well as decreased stress, anxiety, and hyperactivity, (and maybe some interesting looking tchotchkes around the house). There is just something alluring about the smooth motion of clay spinning around a pottery wheel (Patrick Swayze in Ghost anyone?). What better way to have fun with your little one (or give yourself time for a nice break) and give them a new way to be creative than giving it as a birthday or holiday gift?
Among the various creative benefits of creating pottery, it also will help your kiddos relax and keep calm. When working with the pottery wheel, kids are so engrossed in the clay and creativity that they focus in depth on a single masterpiece. For kids not quite ready for a pottery wheel, the simple molding and playing with clay is enough to keep them intrigued. It's like Play-Doh with a purpose. The smooth turn of the clay keeps them honed in while their imagination is running wild on the inside! Can they create purple frogs? Sure! Three-legged dinosaurs? Why not! Clay is a perfect tool for younger kids to handle because it's easily moldable even with their small hands. Make a mistake? Just roll it in a ball and start over. (If only we could do this in life too!)
All of this smoothing and rolling and shaping is actually shaping our LOs hand-eye coordination and building arm and hand muscles as well. Achieving a perfect piece of art is not the goal for pottery for kids. Instead, we are using this to champion creativity and help kids build self-esteem as they mess up and keep going and eventually create something fun! Do you need to use the mugs, pencil holders and dishes they'll create? No. Seriously, no. But you can keep them on display and ooze with proudness every time you walk by your custom piece of art.
We've compiled the 10 best pottery wheels and clay kits guaranteed to keep creativity at an all-time high all year round. It'll quickly become one of their favorite toys and activities (right along with their legos and magnetic toys). They're so fun and easy, you might just get in on the action yourself! (Note to buyers— make sure you've got batteries and a plastic tablecloth or newspaper at the ready. The kids will want to use these immediately.)
Best Pottery Wheels for Younger Kids Ages (6 & Up)
Best Pottery Wheels for Older Kids Ages (8 & Up)
Looking for more fun and engaging kids crafts to keep the littles occupied? Check out all of our recommended kids toys on our Spotted page.
This article was originally published on