The Best Pretend Play Toys To Engage the Imagination, According to a Teacher
They'll play for hours — really.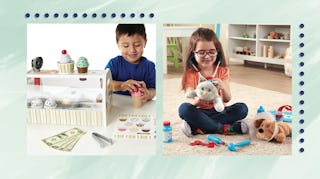 We may receive a portion of sales if you purchase a product through a link in this article.
Parenting is full of difficult moments we talk about here at Scary Mommy at length and without shame. Like how getting pregnant is complicated, mom rage is real, and oh, by the way, we're all losing our hair. But it's also full of rich, magical moments you want to bottle up forever. One of those magical moments is without a doubt the awakening of the imagination, and the best pretend play toys help your kids get there. When your kiddo puts an empty spoon or cup to their mouth and you nudge your partner, "Look! She's pretending!"
Pretend play toys are useful vehicles for that imagination to grow and thrive because they allow for open-ended play. Things like dress-up clothes or ever-popular play food sets really set the stage for kids to build their own narratives.
To find out just how this magical phenomenon takes place — and why it's so important — we tapped early childhood special expert, Emily Ndungu.
The Expert
Emily Ndungu is an early childhood special education (ECSE) teacher in Leander, Texas. She has a bachelor's degree in early childhood special education from Calvin University in Grand Rapids, Michigan. She has taught in a variety of school settings, both in the United States and in Kenya. She loves working with children and being a mommy to her 1-year-old son.
What Age Is Appropriate For Pretend Play?
According to Ndungu, your child could exhibit signs of readiness for pretend play as early as 12 months old. "You might see your child hold a block to their ear like a phone or use the remote like a brush. They are constantly watching you and trying to mimic your actions," says Ndungu. However, if you're waiting for your kids to engage in imaginative play together, you're a few years away. "Cooperative play, interacting with peers, doesn't emerge until around age 3 or 4."
How Do I Get My Toddler To Pretend Play?
The answer is simple: "The best way to encourage pretend play is to play with them!" shares Ndungu. "It can feel a little funny to get on their level and pretend to play kitties or doctor, but it has so many benefits for your child. Sometimes they need modeling and encouragement from their grown-up to foster that imagination." Another way to encourage play is to observe your child's interests. "If they love dinosaurs, bury their toy dinosaurs in the sandbox and give them a toothbrush to explore. If they loved a trip to the doctor's office, give them some Band-Aids, Q-tips, and a thermometer to play doctor." Once you're aware of your child's interests, Ndungu suggests providing toys and supplies from around the home to help them explore through play.
Why Is Pretend Play So Important?
"Pretend play is vital for their development," reveals Ndungu. "Not only does it cultivate creativity and imagination, but it also builds socioemotional and language skills." The benefits of pretending are right there, even if you can't see them on the surface. "While playing, your child is learning turn-taking, problem-solving, and listening to others [...]. Language skills are formed and practiced while pretending." Pull out a few pretend toys or empty egg cartons and witness the phenomenon. "Just think," says Ndungu, "playing grocery store practices social interaction, food vocabulary, and counting."
Ready to get playing? From baking toys that encourage pretend to play in the kitchen to vet and firefighter sets for exploring different occupations, the toys below promise to help you and your little one lose yourself in the immersive world of pretend play. Let their imagination — and yours — run wild.