Two Girls Keep In Touch With Their Deployed Dad Through A Home Security Camera
"Take my heart!" one daughter yells in a video clip after blowing kisses to the camera.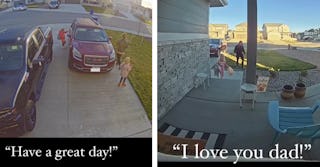 Instagram / @_mamadorn_
Families with deployed parents experience a special kind of heartache. For two girls in Colorado Springs, they're finding new and ingenious ways to keep connected despite the circumstances, including communicating with their deployed dad in the United States armed services through their driveway security camera.
What started as a silly occasional shoutout to their dad — Jordan Dorn, who has been deployed since September — has turned into an everyday ritual for the Dorn family.
Kristy Dorn — Jordan's wife — compiled security footage clips of herself and the girls talking to Dorn through their security camera in an Instagram Reel. The girls yell out how much they love their dad and hope he's having a good day over the tear-inducing country song "My Little Girl" by Tim McGraw.
The post soon went viral, gaining 6.6 million views and over 100,000 likes.
"Take my heart!" one of the girls exclaims in one video after blowing several kisses to the camera.
"Have a great day! I love you, dad!" one of the girls yells out in another clip.
In another cute clip, the girls compliment their dad's "new haircut."
Kristy Dorn explained that once in a while, Jordan would get on the camera's microphone and say hello the girls if he saw that they were outside.
"Every once in a while, if we were walking out, he would say hi to us through [the camera], so every time the girls would go to school or just be outside, they just kind of got in the habit of saying like, 'Hi, dad, love you,' and if he was around, he would say hi back, too," Kristy explained to KKTV.
Kristy also explained that Jordan's deployments have been getting harder and harder for the girls to deal with as they have gotten older. She's thankful for the technology that helps them keep in touch even if it's just a quick "I love you."
Kristy has been doing all she can for the girls while her husband has been away. In another Instagram post, Kristy toured a room in her home where she keeps a wall display with several different items to remind the girls that their dad is always with them.
"I remember standing in hobby lobby sobbing while I pieced this together,. This has been such a good visual for our girls to try and understand it all," she wrote.
On the wall, she includes a map "so the girls can understand where we are in the world compared to daddy" as well as a clock where "one clock is [their] time and one is his time."
She also added a mail bin to the wall for the girls to put letters they write to their dad until mom takes them to the post office. There's also a letter board with a countdown until dad's home as well as a sweet family photo.
Lastly, Dorn included molded blue hands, presumably their dad's hands. This addition serves as the the most touching and heart-wrenching items that she included on the wall. " ... when we are sad, we wrap daddy's hands around us for a big hug," she wrote in the caption.
Thankfully, it looks like Jordan is set to come home sometime in 2023.