Watch This 81-Year-Old Great Grandpa "Come Back To Life" After His 3-Year-Old Great Grandson Moves In
Their relationship is giving TikTok all the feels.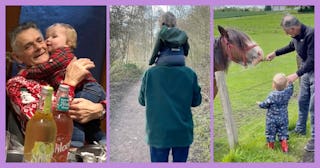 TikTok / @siaanstewart
Having the gift of present and loving grandparents and great-grandparents is truly something to treasure. There are so many parents with absent grandparents, wishing that their kids could have had the opportunity to get to know their grandma and grandpa. One mom on TikTok knows just how special her "grandad" is and decided to share his love with the entire internet.
Sian Stewart uploaded a video filled with clips of her grandpa playing, cuddling, and helping raise her three-year-old son and the TikTok soon went viral.
"Me: Grandad, I'm leaving him, what do I do?" Stewart wrote in text overlay over the video, implying that she reached out to her grandparent for advice during a difficult time in her relationship.
The video then transitions to a photograph of her grandpa with the words he told her after she explained her situation. The text reads, "You come and live with me."
Then, the video switches to several clips of Stewart's grandad and son. From helping the toddler learn to walk, to trips to the farm and park, to snuggling on the couch and washing the car, this great-grandad and grandson are truly BFF goals. What a special relationship for a mom to see develop in their own home.
In another TikTok, Stewart posted photographs from when she was a girl, showing that her grandpa was just as present and focused on his grandkids then as he is now.
The original video — which gained over 3.6 million views and almost half a million likes — caught the eyes of thousands of others who deemed this grandad one of the greats, vowing to protect him at all costs.
"He needed you as much as you needed him," one user wrote.
"That baby is going to cherish those years with him for the rest of his life 🥰," another wrote.
One user noted, "I'll bet you and your son have added years to grandads life. 👏👏👏"
"He really did come back to life when me and Jacob moved home, such a blessing to watch❤️❤️," Stewart replied.
And she's not wrong.
A recent study showed evidence that seniors who take on childcare duties like babysitting their grandchildren actually live longer.
From social engagement to physical activity, children offer a chance at stimulation for older people.
"Little kids are fun. They come up with silly ideas. Spending time together allows the grandchild to share their presence and joy with their grandparent," said Dr. Baldassarri told Baptist Health.
"Additionally, you have to be creative to keep kids from getting bored. Thinking up games and things to do keeps you mentally stimulated. Children also ask a lot of questions. These challenges could help delay cognitive decline."
In a follow-up video, she wrote, "I could sit and watch these on loop all night. Who would of thought a 3 and 81 year old would be best friends 😂"