27 Profoundly Unsettling Horror Books To Get You In The Mood For Spooky Season
Library thrillers? Check. Indigenous slasher horror? Yep. Postpartum terrors? Just wait.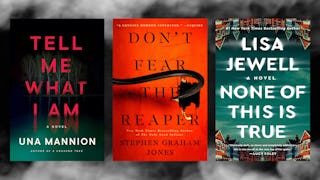 Amazon/Scary Mommy
We may receive a portion of sales if you purchase a product through a link in this article.
Horror movies are great. You can watch them with friends, they've got the creepy music, and you can get through one from start to finish in a couple of hours. But absolutely nothing beats a spooky book. You're either reading it alone or out loud (reading out loud is creepy!), and it's quiet and dark and you can hear every creak of the floorboards and howl of the wind. You're also totally immersed in the world of the story, and your imagination is in charge of bringing it to life in the eye of your mind. Nothing can scare you quite like your own brain with an assist from a truly good horror novel.
True, summer hasn't completely faded out yet. But for those of us who love a little Halloween every day of the year, our minds are already halfway in the dark woods, telling scary stories around the hearth by the time August rolls around. We've been digging into some recent releases and forthcoming thrillers, true crime, horror, and mystery books and have found a fresh slew to give you the ultimate creeps — in the best way possible.
Haunted houses, sinister suburbs, Indigenous slasher horror, and postpartum terrors are just a few of the delightfully dark worlds in store for you this fall as you curl up with a PSL and a new horror book (or three).
The Spookiest New Horror Books
1. How Can I Help You? By Laura Sims
Set in a public library, the story alternates between the POVs of two central characters: Margo, a former nurse with a mysteriously high body count in her past, and Patricia, a failed novelist turned reference librarian. Intense from page one, you'll root for, abhor, and see yourself in these women as the story makes its way to a disturbing climax. It's gently creepy.
2. Graveyard of Lost Children by Katrina Monroe
Paced with a poetry that reads like your own inner thoughts, the book opens with Oliva Dahl when giving birth to her baby, Flora. As the novel continues, we learn that Olivia Dahl's mother thought she was a changeling — an evil fairy switched at birth — and tried to kill her at just four months. How this filters into Olivia's thoughts and feelings toward her child is the stuff of nightmares. Warning: This book does talk about postpartum depression, mental illness, and thoughts of self-harm and suicide.
3. Delicate Condition by Danielle Valentine
New mom/pregnancy horror seems to be creating a subgenre of chilling novels, ala Rosemary's Baby for modern times. In this heart-thumping novel, you find yourself scared for Anna from page one. As an actress, Anna Alcott thought her chances of true success had passed her by. But then a role in an indie film gets her noticed by fans sinister and celebratory alike. Anna enters IVF treatment just as her career is really ramping up, and it seems a stalker wants nothing more than to keep her from motherhood. As the story progresses, Anna begins to wonder what is really growing inside her. Twisty, wicked, and as dark as it gets.
4. Everyone Here Is Lying by Shari Lapena
Lapena is the queen of domestic thrillers, and her latest novel doesn't disappoint. Set in a nice little family-first town called Stanhope, somewhere we'd all like to live, Everyone Here Is Lying builds up the suspense page by page as we meet William Wooler — a nice guy and good father — and learn his dirty secrets. But when his daughter goes missing, the town starts to feel more sinister, and so does Wooler.
5. Zero Days by Ruth Ware
Ware is often considered today's Agatha Christie, and it's hard to disagree. But it's not because she follows a Christie-like formula or plot points, nor does she lead with a dead body (usually not until the second chapter). Every novel from Ware is uniquely different, but all demonstrate her talent to keep you guessing from page to page while instantly siding with the main character, making her a Christie-like master of the genre. This novel centers on a "security penetration specialist" named Jacintha, who companies hire to test their security for weaknesses. But when her husband turns up dead, it's Jacintha who is the prime suspect and the only one who can really solve the crime.
6. None of This Is True by Lisa Jewell
In this story-within-a-story that coils around itself, two women meet by chance at a restaurant where they are both celebrating their 45th birthdays. The birthday twins couldn't be more different: Alix is a glamorous and successful true crime podcaster, while mousy, introverted Josie is full of secrets. When they run into each other again, a relationship begins that evolves from unsettling to downright terrifying, with Alix finding herself at the center of her own true crime podcast.
7. Tell Me What I Am by Una Mannion
Two intertwining narratives unfold in this complex, clever book that features two women telling their own versions of their family's darkest secrets. Nessa's sister Deena went missing in Philadelphia in 2004, and Nessa always believed her sister's ex-husband got away with murder. Nessa's niece Ruby, Deena's daughter, is raised by her father 1400 miles away in Vermont, where she spends time in nature and learns the art of making sure she doesn't trigger her father's temper. But she wants to know: What really happened to her mom?
8. The Handyman Method by Nick Cutter and Andrew F. Sullivan
The house is a bargain — the first of its kind in a new development, a model home with all the bells and whistles at a price the young Saban family can afford. What could possibly go wrong? But from day one, Rita has an uneasy feeling, and Trent starts to notice problems with the construction. Determined to make the best of it, Trent starts to do some repairs on his own, with the help of a mysterious online DIY instructor who begins to deliver subliminal messages in his tutorials about handling the "problems" around the haunted house.
9. Perfectly Nice Neighbors by Kia Abdullah
When Salma Khatun and her family move into the clean little suburban development of Blenheim, she's hopeful this will give her family a fresh start. But then micro-aggressions start to trickle in, from comments made at a neighborhood BBQ to catching her white neighbor ripping out her son's anti-racist banner from their front yard. This book is a commentary on keeping up appearances, rampant — and subtly disguised — racism, and one woman's determination to keep her family safe at any cost. The writer proves exceptionally skilled at creating tension in every scene with an ominous feeling just around the next page turn. Out Sept. 12, 2023.
10. No Child of Mine by Nichelle Giraldes
Essie Kaur is a woman many of us can relate to: ambitious and independent. She's not even sure she wants to be a mother. But when she and her husband Sanjay move into a house with peeling wallpaper and creaky stairs, Essie feels... unsettled. Furniture seems to move out of place, and there are strange sounds. Soon, Essie learns she is pregnant. Her body does not feel like her own, her pregnancy is difficult, and to make matters worse, Sanjay is acting strangely. He's become distant and paces at night. The book also has an alternating story of the house's prior occupants and the reasons, perhaps, that the house is haunted. Out Sept. 12, 2023.
11. Don't Fear the Reaper by Stephen Graham Jones
The second book in the Indian Lake trilogy by master horror writer Stephen Graham Jones has us back at Proofrock with our beloved Final Girl, Jade Daniels. After a four-year stint in prison, Jade comes home the same day as convicted Indigenous serial killer Dark Mill South. This killer is set to avenge the 1862 hanging of 38 Dakota men, and Jade seems to be the only one who knows what's really going on. In his signature style, Jones manages to write a slasher film in novel form — if that film allowed you to really get inside the head of the central characters and not just hear but feel and see their inner dialogue. His work makes horror that much more plausible. Read My Heart Is a Chainsaw, the first in the series, before you read this one, though. Released in hardcover earlier this year, it's available in paperback on Sept. 26.
12. While Idaho Slept by J. Reuben Appelman
True crime fans will want to add this one to their cart now to be among the first to read the details of the shocking Idaho College Murder case, the brutal stabbing of four young college kids in Moscow, Idaho, in mid-November of 2022. Appelman's previous true crime book, The Kill Jar, was named among the best true crime books of the year by numerous outlets, including the New York Times Book Review, Bustle, and USA Today. In short, he's one hell of a writer with an ability to examine objectively while still reporting in a deeply intimate way. Out Oct. 3, 2023.
13. My Darling Girl by Jennifer McMahon
The sandwich generation — those of us with aging parents but young kids still in the home — will find this new novel from New York Times bestselling author Jennifer McMahon particularly disturbing. When Alison's estranged, alcoholic mother is diagnosed with cancer, Alison takes her in. Though her mother's abuse caused Alison years of trauma, she's hoping for some kind of reconciliation by giving her mother palliative care. However, it doesn't take long before Alison begins to suspect her mother may be a demonic entity. Out Oct. 3, 2023.
14. Murder By Degrees by Ritu Mukerji
A historical murder mystery set in 19th-century Philadelphia, Murder By Degrees follows Dr. Lydia Weston, a pioneering female doctor, as she investigates the disappearance of one of her patients. The author is a practicing physician, and her medical knowledge adds extra credibility to this moody debut novel. Let's hope this isn't the last we see of Dr. Weston. Out Oct. 17, 2023.
15. The Reformatory by Tananarive Due
This gut-wrenchingly terrifying story follows Robert Stephens Jr., who gets sent away to a segregated reform school in Jim Crow Florida. Here, he encounters the horrors of racism and abuse from the living and the dead alike. Based on the author's own great-uncle's incarceration at the Dozier School for Boys in the Florida Panhandle, this tale twists the horror genre to new heights, asking us what is more disturbing — the real, or the imagined? Out Oct. 31, 2023.
16. The Other Mothers by Katharine Faulkner
In keeping with the new motherhood thriller theme, this forthcoming novel plays with the idea of what a journalist will do for a good story and what a lonely woman will do to find friends to help her navigate new motherhood. A young nanny dies, and Tash decides to investigate, getting swept up in the world of the other mothers, a life rich with coffee meetups and playdates. But when another young woman turns up dead, Tash begins to suspect something more sinister is beneath the surface of their seemingly perfect lives. Out Dec. 5, 2023.
Horror Novels That Have Been Out a Minute — & Are Still Scary AF
17. Wonderland by Zoje Stage
From the author of another spine-tingler, Baby Teeth, comes the sophomore novel by Zoje Stage, Wonderland. In it, a young New York City couple and their two kids decide to move to a remote farmhouse and start a new phase of their lives. But it becomes increasingly clear that while they don't have any neighbors, they aren't alone in the woods. This is suspenseful, slow-burning literary horror, and it will have you turning all your lights on (and maybe cutting down some trees).
18. House of Leaves by Mark Z. Danielewski
One thing is for sure: You've never read a book like this one. At over 700 pages long and filled with upside-down text, footnotes, and appendices, House of Leaves feels more like an investigation than a novel. But how the information about the story is presented is precisely what makes it so spooky and readable — and what's given it a cult following over the years. This book is an experience, to say the least, and one that many of its readers claim has given them nightmares on the regular.
19. My Heart Is A Chainsaw by Stephen Graham Jones
If you're a fan of slasher films but also a book nerd, the absolute perfect pick for your spooky season read is My Heart is a Chainsaw by Stephen Graham Jones. The book follows Jade, a horror film aficionado — who might know just what to do when a murderer comes to town. But this isn't your formulaic horror story, either. It also explores ideas of colonialism, revenge, anger, and race. This one is super dark and gory, so strap in and be prepared.
20. The Haunting of Hill House by Shirley Jackson
Published in 1959, this horror classic has retained its popularity over the years for an excellent reason: It will scare the crap out of you. With a haunted house at its center and four memorable main characters who enter its bowels, you won't sleep until you reach the end. And here's a great bonus: Once you finish reading, you can watch the 10-part Netflix series based on the story for an extra spooky time.
21. Pet Sematary by Stephen King
You can't have a best horror books roundup and not include the undisputed king of horror on the list, right? But how do you choose from dozens and dozens of books? Easy: Pick the one that scared the pants off you and still makes you recoil in terror when you see it on the shelf. This is the story of a sinister cemetery that can bring back the dead — but not in any way that you want to get them back — as well as the story of a man who just wants his son back after a tragic accident.
22. The Last House on Needless Street by Catriona Ward
This was one of the scariest releases of 2021 — it involves a boarded-up house, a black cat, a mysterious little girl, and a lot of secrets. There's a reason this one was released just a few weeks before spooky season, because it is going to scare the heck out of you while also unraveling a mystery at the same time. Stephen King raved about it, and it will leave you raving mad.
23. Come Closer by Sara Gran
This is a new horror classic, and it's short and fast-paced enough that you can read it in a day or two. It also involves a favorite horror trope: possession by the devil (or something similar, who knows?). This psychological thriller finds the protagonist, Amanda, starting to notice a few strange things happening, some as innocuous as hearing an odd noise in her apartment. But as her life starts unraveling by tiny degrees, she begins to wonder if there aren't evil forces at work.
24. The Deep by Alma Katsu
Everybody loves a haunted house, but what about a haunted ship? Yes, please. And what if one of the ships involved is the ill-fated Titanic? Double yes. You might say this new horror novel release is, ahem, making waves.
25. Frankenstein by Mary Shelley
This is the mother of all horror novels, famously written by Mary Shelley during a contest with several notable male writers to produce the best monster story. You're surely familiar with the story since it's basically part of the collective consciousness, but if you haven't read the original text, can we tell you how amazingly good it is? Don't miss it. As they say: The book is better.
26. Mexican Gothic by Silvia Moreno-Garcia
A classic gothic horror novel set in 1950s Mexico, this new read is destined to be a classic. This one, too, is centered in an old creaking house and has a mystery at its center that is more sinister and scary than it first seems. It all starts when a woman receives a letter from her newlywed cousin, begging for her to come visit and help her — and from there, the creepiness only escalates.
27. The Little Stranger by Sarah Waters
This is the page-turner to end all page-turners — you'll stay up all night reading this book, and when the refrigerator clicks on in the next room, you will jump and hit the ceiling. The book opens in a crumbling gothic mansion, where a visitor is introduced to the family that resides there (along with its many damp and crumbling rooms). But something isn't quite right with the place, and soon, the protagonist realizes that he might not be alone.
Join the Scary Mommy Book Club Community
It's like a real-life book club, except we're all snarky and very few of us are wearing pants. Find out what this month's book is, get great novel recommendations, and enjoy a lot of laughs.