A Kid Had Her Dream Birthday Party At IKEA & It Was So Freaking Cute
Now everyone is calling for IKEA to make kid parties a regular offering.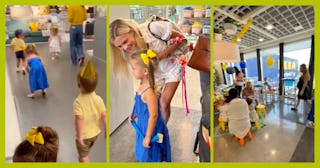 TikTok / @cyaatia
One TikTok mom from Florida blew so many people's minds when she took her followers along for her 3-year-old daughter's birthday party at their local IKEA.
The video blew up with so many followers who were in awe at the thought and effort IKEA put into the party to make the fun and memorable for the kids, calling for all IKEA locations to get on board with this trend.
Can you have a birthday party at IKEA?
"Come with me have my three year old's birthday party at IKEA Tampa," the video begins begins.
First, she and her daughter are met at the door by the Ikea "event leader" who immediately adorned the birthday girl with a special birthday sash. Then, they were led to the party room.
"Look at what an amazing job they did decorating," she says while panning the room filled with blue and yellow balloons and streamers AKA IKEA's signature colors.
For lunch, Ikea served party guests pizza, mac and cheese, and their famous Swedish meatballs.
"Lunchtime was a huge hit," she said.
After lunch, IKEA led the kids on a scavenger hunt around the showroom.
"How cute is that? Have you ever seen anything cuter?" she asks. "It was really cute watching them all be busy."
After singing "Happy Birthday" and eating cake and ice cream back in the birthday room, a gaggle of IKEA workers busted into the room to sing "Happy Birthday" again and gifted the birthday girl with her own IKEA worker shirt as well a giant birthday card signed by all the Ikea employees. The party also included IKEA gift cards for all the adult attendees and stuffed goodie bags for the kiddos.
"Thank you Tampa IKEA you went above and beyond!" she concluded in the voice over.
The video of the unique kid's birthday party soon went viral with over 800k views and hundreds of comments from TikTok users absolutely loving this idea.
"IKEA BIRTHDAY PARTY?!? Yeah, my 34th birthday is going to be lit!!!" one user joked.
One employee at the Tampa IKEA who worked on the party saw the viral TikTok and commented, "employee here! i made her the name badges and i hope she loved them!! she's so cute & i'm glad she enjoyed the event! 💛💙"
Does IKEA host birthday parties?
Several comments on the video begged for more information on how this mom made it all happen. In a follow-up video, she explains that her daughter loved going to IKEA on shopping trips.
"She found a place that she could play with toys, jump on beds and eat pizza all in the same store, and I would allow it. Yeah, she fell in love."
Soon enough, she was begging her mom to have her birthday party at IKEA. So, she decided to reach out via social media to the official IKEA USA to see if they would ever host a children's birthday party.
"IKEA USA responds back to me on Facebook and they love the idea. They love Lucy. They sent it to the Tampa IKEA and they're like, 'Hey guys, what do you think about this? Something you want to do?' Insert the dream team at IKEA Tampa," she says in the video.
From there, IKEA Tampa took the idea "to the moon."
How much does a birthday party at IKEA cost?
As for pricing, the mom explains that since this was a one-of-kind party, the store customized a pricing package for her.
"It is not anything that they offer just yet unfortunately," she says. "I hope we can change the world. So every child and adult is able to have a birthday party at IKEA."