The Best Weighted Blankets To Help Your LO Get A Better Night's Sleep
by Kate Antoniades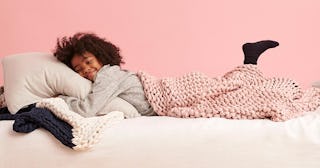 Bearaby
Weighted blankets can be helpful for people of all ages — and for neurodivergent and neurotypical folks alike — and if your child is having trouble falling asleep or staying asleep, a weighted blanket for kids could make a big difference (for their sleep and yours). In the past, these blankets were typically only available at specialty stores, but as they've grown in popularity over the last few years, they've become much more widely available. If your kid's comfy bed pillows, cozy pajamas, and cute bedding set aren't doing the trick to prevent sleep issues, a kids' weighted blanket could be the missing piece of the good-sleep puzzle.
Would my child benefit from a weighted blanket?
Weighted blankets are often recommended for autistic people and people with ADHD and/or anxiety, just to name a few. Alisa Elliott Rector, a pediatric occupational therapist in Anchorage, AK, says that kids who have a hard time settling — because of anxiety, for example — can find a weighted blanket comforting, as can kids who have trouble sleeping alone. If you notice your child performing sensory-seeking behavior during the day, such as stomping when they walk, hitting their head on things, and jumping up and down, the feeling of a weighted blanket could benefit them, too, says Rector.
How do weighted blankets help kids who have sleep issues?
"Proprioception is our sense of body awareness," Rector told Scary Mommy. "If there's a disruption in the proprioceptive pathways, we tend to need more of that to make us feel calm and in our bodies." When a person's body awareness is insufficient, they can find it harder to relax, and a weighted blanket can supply the necessary sensory input to the nervous system and help a restless or anxious person feel more grounded.
How do I choose the right weighted blanket for kids?
A weighted blanket should be about 10% of your child's weight, plus one or two pounds. Weighted blankets were originally filled with beans but today typically contain plastic or glass beads. "I prefer the glass beads," says Rector. "It's a more consistent weight, and it's more compressed." (The weighted blankets below all contain glass or ceramic beads.)
One final piece of advice: Before you buy a weighted blanket, Rector suggests trying a regular, heavy quilt to make sure your kid isn't bothered by the extra weight. If they're comfortable with how it feels, check out our list below for the best weighted blankets for kids!
Editor's Note: Make sure to check with a pediatrician before purchasing a weighted blanket. In some instances, weighted blankets can be dangerous for small children.
Best Weighted Blankets for Kids
This article was originally published on