These Mini Crib Mattresses May Be Small In Size, But They're Big On Comfort
We only recommend products we love and that we think you will, too. We may receive a portion of sales from products purchased from this article, which was written by our Commerce team.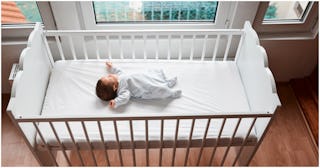 Getty images
Mini crib mattresses are a necessary add-on if you've decided to buy a mini crib, which is simply a smaller version of a standard crib. They're growing in popularity, and they're such big space-savers, we don't think you'll regret it. Most mini cribs come with a 1-inch mattress pad, which is so thin, it's kind of like sleeping on a wooden blanket. Hard pass. (Literally, it's hard.) So to help make your baby's crib a cozy place that's actually conducive to falling asleep and staying asleep, you're going to need a mini crib mattress to safely add some cushion. (Pssst, we also have an awesome list of standard crib mattresses if you're going that route instead.)
What to look for when buying a mini crib mattress
According to Rachel Mitchell, a certified Pediatric & Maternity Sleep Consultant, a few things to consider when crib mattress shopping are thickness, firmness, durability, and whether or not they are waterproof.
"Parents should consider the thickness of the mattress to make sure that it is compatible with the crib they are purchasing (or already have)," Mitchell explains. "If the mattress is too thick, it may place the child up to high in the crib. If the mattress isn't thick enough, it might not be comfortable for the child."
In addition to being a certified Pediatric & Maternity Sleep Consultant, Mitchel is also the founder of My Sweet Sleeper, a former night nanny, and mama of six! She is full of wisdom for parents on the hunt for mini crib mattresses for their little ones. She adds, "…an infant mattress [also] needs to be firm enough that your hand doesn't leave an imprint when pressing into the mattress. Research shows that using a firm mattress can reduce the risk of SIDS."
What size mini crib mattress should you get?
All mini cribs are smaller than the standard crib, which is 28-inches wide and 52-inches long. The size of standard cribs is regulated by law, the size of mini cribs is not. Generally, the inside of a mini crib measures around 24-inches wide and 38-inches long, but this can vary. So to make sure you buy the correct size mini crib mattress, take a look at the specs of both the mini crib and the mini crib mattress before you make your purchase.
To make the decision a little easier, we rounded up the best mini crib mattresses based on their ratings and popularity. (We called out their dimensions, too — you're welcome.) You'll also find some super cute mini crib fitted sheets because you'll definitely need to add those to your baby gear haul, too.
Best Mini Crib Mattresses
Organic Mini Crib Mattresses
Mini Crib Mattress Sheets
This article was originally published on