Watch A Little Girl & Her Mom Meet The Original 'Little Mermaid' & Try Not To Uncontrollably Weep
The touching encounter with Jodi Benson quickly went viral.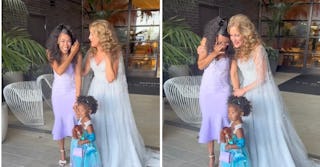 TikTok / @jaylabrenae5
The long-awaited live-action feature film of The Little Mermaid is almost here! The new film will premiere May 26, 2023 and feature singer Halle Bailey in the role of the curious and sweet mermaid, Ariel.
But before Bailey's interpretation of Ariel is sure to stun audiences, the role was originally voiced by Jodi Benson in the 1989 cartoon version. Benson has become somewhat of a Disney icon and not far off from a real-life Disney princess.
For one lucky mom and daughter, they had a chance encounter with Benson while visiting a hotel. Thankfully, the emotional moment was captured on video for us all to cry over.
TikTok mom, Jayla, posted the now viral footage to her social media.
"When you walk out of your hotel room, and these ladies want a picture with your daughter...and then you realize, it's Jodi Benson," Jayla wrote in a text overlay on the video. "The original Little Mermaid that you have been obsessed with since you were little!"
Jayla's daughter, Nyla, also happened to be dressed in an adorable Little Mermaid dress with a new Little Mermaid doll (made in the image of Halle Bailey), as the two were actually on their way to a premiere of the film. Before Jayla jumps in the photo, Benson helps Nyla brush out the doll's hair and make sure it's front and center for the photos.
Then, Jayla joins the photo op and the three women laugh (and cry) while chatting and posing for adorable photos. "I LITERALLY CANNOT STILL I AM CRYING ALL OVER AGAIN💕🌊" Jayla wrote in the TikTok video's caption.
Jayla's encounter with Jodi Benson quickly went viral, gaining over 7 million views in less than 24 hours.
Jayla and Nyla also attended the "blue carpet" for the premiere of the live-action The Little Mermaid, which Jayla admitted with a dream come true. "Nyla enjoyed every single second, and we even saw Ariel herself," she narrated while showing footage of Halle Bailey posing for pictures at the premiere.
In a follow-up video, Jayla expressed her gratitude for being able to share such a special moment with her daughter. While sobbing, Jayla said, "I am just so thankful."
"...the life we live, getting to experiences like this is just crazy ... like yes, I get to live these moments too, but my daughter ..."
She then reveals, while wiping away tears, that she and Nyla are on their way to Disneyland in the morning, noting that she has never been to any Disney park.
TikTok users flooded Jayla's comment section with words of encouragement and wonder over the magical moment.
One user wrote, "I love how Jodi Benson made sure the doll was facing forward. Small acts like that mean a lot"
Another wrote, "As a Black woman named after the little mermaid this made me cry. 💕"
"It must feel absolutely amazing to see how your work continues to impact people three decades later. Jodi Benson continues to be✨✨♥️," another TikToker wrote.
Another user pointed out, "her gracious public appearance and huge visible support of our new Black Ariel is what we call proper solidarity!"
Conversations surrounding the casting of the live-action mermaid swirled for some time before Disney revealed that Bailey was going to be playing the role of Ariel — and the reactions from kids like Nyla and parents like Jayla prove that representation matters.
Back in September 2022, Bailey showed her own compilation of reactions to the first live-action film's trailer, captioning the post, "People have been sending these reactions to me all weekend, and I'm in truly in awe ♥️seeing these little babies reactions makes me so emotional 💗this means the world to me 💗😭thank you all for your unwavering support."
The video features girls of different ages giving faces of total shock and surprise once Halle hits the screen in the iconic opening scene of The Little Mermaid, where Ariel is Black, and her long red hair is actually dreadlocks.
One child says, "What is this?" and later proclaims, "She's Black!" others gush, "She's brown like me," and "her skin is like mine."
The Little Mermaid becomes part of our world in theaters on May 26, 2023.