Here Are The 2023 Predictions For The Most Popular Baby Names In Each State
One particular name seems to be *most* popular in America.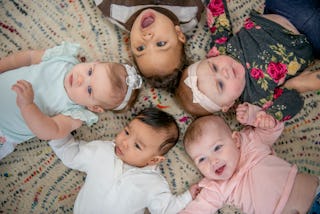 FatCamera/E+/Getty Images
When picking out a name for your new bundle of joy, parents may check up on what names are trending currently — so that they can either avoid common choices or pick something of the time. Things get a little complicated when there are three kids named Noahs and another four named Olivia in every single class, but that's just how baby name trends go!
So many of us know what it's like to have our last name initial permanently tagged onto our first name for the majority of our life so that we had some sort of unique identity (Katie G. — forever and always!).
For those looking for something a bit unique to buck trend, Names.org has predicted which names will be the most popular this year and broke that list down per state.
Based on the website's predictions, Liam and Olivia —the two most popular boy and girl names since 2017 and 2019, respectively— are expected to remain in the #1 spots in 2023 with 20,637 boys named Liam and 18,155 girls named Olivia.
The outlet also predicts that the top 10 list will stay the same this year though there are some impressive contenders that may sneak into the mix in the upcoming years including Jack, Levi, Mateo, Luca, and Asher for boys; and Eleanor, Gianna, and Nora for girls.
While not yet near the top 10, the fastest-rising name in America for boys is Luca with 6,847 in 2021, up from 872 in 2006. The fastest-rising name for girls is Isla with 5,514 in 2021. In 2006, only 92 girls had that primarily Scottish name.
The website claims their predictions are some of the most accurate name predictions that can be found online. "From 2018 to 2021, 95% of our predictions were in the actual top 10 boys and girls baby names once official numbers were released," the outlet claims.
Their stats are based on Social Security Administration data on births from 2021—the most recent year available—and on analysis of trends of this data over time. In addition, they take in consideration the interests and interactions from millions of users on its website.
Names.org believes there might be some reasoning behind some of the newer names climbing the ranks this year, and to no one's surprise, Disney could be the culprit.
"The name Luca is quite interesting this year. We see a sharp increase in the numbers for 2021 (the last year Social Security data is available) which is the same year that Disney released a movie by the same name," Names.org Chief Technology Officer Matthew Kolb told Newsweek.
"Interest on our site peaked in June of 2021 which was the month the movie was released. While I don't believe it will make it in the top 10 this year, it will be very interesting to see whether we see a temporary boost to the name for 2021 or a more sustained usage of the name that extends through the years."
Names.org also did a state-by-state breakdown to predict the top names in different regions of the country, and the results were definitely surprising state-to-state.
Liam was predicted to be the most popular boy name in 21 states: Arizona, Arkansas, Colorado, Delaware, Florida, Georgia, Kansas, Kentucky, Louisiana, Maryland, Nevada, New Jersey, New Mexico, New York, North Carolina, North Dakota, Oklahoma, Rhode Island, Tennessee, Texas and Virginia.
Oliver was predicted to be this year's most popular boys' name in 13 states including Idaho, Indiana, Iowa, Maine, Michigan, Missouri, Montana, Ohio, Oregon, Utah, Washington, Wisconsin and Wyoming.
Noah came out on top for Alaska, California, Connecticut, Hawaii, Illinois, Massachusetts and Pennsylvania with Henry leading the way for Minnesota, Nebraska, South Dakota and Washington D.C.
Alabama and South Carolina could be all about the name William.
Some interesting outliers included Mississippi and Vermont, where James and Theodore topped the list, respectively, while Waylon was predicted to be West Virginia's most popular.
Olivia lead the way for the majority of U.S. states' most popular girl name.
Connecticut, Delaware, Indiana, Maine, Michigan, Minnesota, Missouri, Ohio, Pennsylvania, Vermont, Virginia, Washington D.C. and Wisconsin chose Charlotte for the top spot.
Amelia is gaining popularity in places like West Virginia, Virginia, and South Dakota, while Ava is predicted to be most popular in Mississippi and Sophia in New Mexico.