TikTok Mom Warns Parents About Baby Names That Their Kids Will "Outgrow"
You're naming "adults, not babies."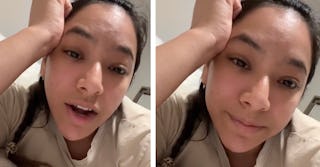 TikTok / @rubyyvillarreal
Most parents want to make sure that whatever they decide to pick for a baby name, the name has meaning, fits who the child is, and isn't a source of shame or embarrassment. Some parents opt for totally out-of-pocket names that are unique and memorable (See: Malibu Barbie and Apple). Others are going for more classic names like Emma or John.
One strategy for naming a child might be picking something cute or precious — perfect for your new bundle of joy, but a little cringe when it comes to addressing an actual adult. Would you take a "Payzlee" seriously during an interview? Or imagine your kid having to introduce themselves as "Whiskey" during a first date.
A few moms on TikTok are warning other parents that while, yes, naming your child is a special moment, there should be some thoughtfulness and foresight put into the process no matter what.
One TikTok mom — Ruby — stitched a video from another TikTok creator who explained that when she named her kids, she named "adults not babies." Ruby agreed with this sentiment, explaining that when she named her daughter, she wanted to make sure it was a name she would never "outgrow."
"The whole concept when I was trying to look for a name and choose a name for her is I did not want her to outgrow her name," she said in the viral video that now has over 11 million views. "I wanted the name to fit her as a baby, as a toddler, as a child and into adulthood. So, it's like I really am happy with what I ended up with naming her and it just fits her so well."
She captioned the video, "love having nicknames as they are younger and it doesn't mean they will prefer it over their name as they get older. Just gives them options 🤷🏻‍♀️."
After the video went viral, thousands of TikTok users flooded Ruby's comment section, agreeing with her notion that kids can outgrow certain names. "Imagine a 30 year old named posie and sunday," one user wrote.
Others joked that babies with "adult" names can be a bit unsettling, too. "I'm not holding no Barbara," one user commented.
One user noted that nicknames work perfect right now and her children's names will transfer seamlessly into adulthood. "I have a Joseph and a Liliana, but they're little so they're Joey and Lili," she wrote.
In a follow-up video, Ruby revealed the names of her children after several commenters asked. Ruby explains her daughter's name is Karla Esmeralda.
"I just really liked how simple, how bold, and strong that the name by itself just really kind of is. Doing some research names with the letter K tend to be like very bold and powerful names so I really wanted it with a K and not with a C," she said.
"And then for her middle name, Esmeralda, her grandpa is the one that chose that one. And we really liked it. We thought it was a beautiful name. I just didn't like the way that it flowed as a using it as a first name so we stuck that as her middle name and so that's how we got her name."
While most commented that Ruby's daughter's name was beautiful, others criticized for her naming her daughter with an old-sounding name. "You named a grandma," one user wrote.
Another said, "Karla ... u cannot be talkin bout other kids names fr😭😭😭"
To which Ruby replied, "Everyone has their reasons when choosing a name, these were mine. each to their own. Some names im definitely surprised with but not my babies 🤷🏻‍♀️"
This isn't the first time that children outgrowing their names has been a hot topic on social media. Just last month, parenting influencers Connor and Liana were in the spotlight after a couple of different parenting influencers, Matt & Abbey, seemed to be publicly ridiculing their baby name choice for being too babyish.
"I'm going to be honest with you, it does kind of bug me, some of the names that are out there nowadays," Abby said in the couple's podcast, The Unplanned. "They're so off the wall. You know your child is going to be an adult, and potentially work in a professional setting..."
"If you name your kid something that's really cute for a kid, but then they don't have a name that can be an adult name, that is scary," Matt agreed.
In that case, the baby name in question was Koazy (pronounced Cozy). And yes, one has to admit it's a bit hard to imagine the president, or a brain surgeon with that name. But maybe the future will be different when far more people have original names? It's hard to say.
There is something to be said about the weight that a name can hold for a person. Recent studies found that what a child is named has the potential to influence behavior, physical appearance, career path and life choices, popularity, and how others perceive them.