These 100+ Old Man Baby Names Are Vintage Cool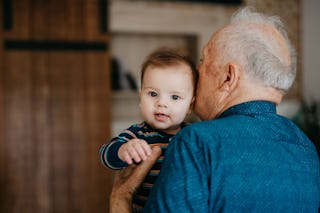 Anchiy/Getty
When it comes to boy names, parents have been sticking with evergreen monikers like William, John, and Michael for decades now. But while those are all names that fit a child, character, or even a pet at any age, there are some classic names that can only be categorized as old man baby names. Like their old lady names counterpart, these are vintage names that are so retro they've swung back around to being cool again — and some of them have been catching on with modern parents in a major way.
For instance, you may very well know both a toddler and a grandpa named Leo. That's because the fiery name has been steadily climbing the top baby names for boys charts over the past decade. In fact, it was the 95th most popular boy name of the 2010s according to Social Security records. Meanwhile, back in the 1930s, Leo ranked as the 88th most popular name for newborn baby boys, making it one of the hottest old man names around. (And just in case you're wondering, Leo means "lion" or "brave people," per our baby names database — although, let's be real here, for millennials it will always mean heartthrob because Leonardo DiCaprio fever never fades.)
Leo isn't the only oldie but goldie name making a comeback. Other names gaining in popularity that will make your baby sound like an adorably grumpy 80-year-old man include Arthur, Victor, Otis, and Otto. Clearly, everything old is new again in the world of baby naming, as the uptick in classic boy monikers proves.
But will giving your son (human or fur baby) an old school name lead to them being more mature than all of the other kids on the playground? Probably not. Although an article published in BBC magazine in 2014 argued a person's name may have some affect on their overall path in life, there's no concrete science that proves there's a correlation between a name and a person's behavior. Unfortunately, that means just because you name your son Lionel that doesn't mean he'll be listening to vinyl records and willingly wearing sweater vests to school every day, but hey, it's still worth a shot.
Ready for some old man baby name inspiration? Read on for a mega-list of our favorite vintage cool baby boy names that will pair perfectly with all of those tiny bowties and bowler hats you've bought for your little one — hey, no judgment here. There's nothing cuter than a baby dressed like a character from Mad Men, which is probably one of the reasons why so many of these names are making a comeback.
Old Hollywood Names:
The golden age of Hollywood is the perfect place to look for inspiration when you're contemplating giving your baby an old man's name. After all, these stars of the silver screen all went on to be successful with their old-timey (and undeniably cool) names.
Buster [Keaton]: Tough guy
Cary [Grant]: Pleasant stream
Clark [Gable]: Scribe, secretary, a scholar who is part of a religious order, or some who has an education
Errol [Flynn]: Nobleman, warrior, or prince
Fred [Astaire]: Peaceful ruler
Gene [Kelly]: Well-born, noble
Gregory [Peck]: To watch, watchful, or alert
Humphrey [Bogart]: Bear cub or peace
Jimmy [Stewart]: "He who supplants"
Laurence [Olivier]: Man from Laurentum
Lionel [Barrymore]: Lion
Marlon [Brando]: Dedicated to Mars, from the hill by the lake, remnants of a lake or hawk
Mickey [Rooney]: "Who resembles God?"
Oliver [Hardy]: Olive tree planter
Orson [Welles]: Bear
Sidney [Poitier]: Wide meadow
Spencer [Tracy]: Steward or administrator
Baby Names That Literally Mean Old:
Want to give your little one a moniker that literally means old? Surprisingly, there are actually a few out there. Try one of these unusual names if you suspect you have an old soul on your hands.
Aldo: This short name comes from Italian origin. It also means noble.
Alder: Alder is also the name of a tree. Its wood is usually used to make electric guitars.
Alcott: Alcott is from old English origin and means old cottage.
Eldred: This name means old or venerable counsel.
Elton: This name means old town, enclosure, or settlement.
Milo: This Germanic name also means soldier or merciful.
Seanan: Not only does this name mean old, but it also means wise or gift from god.
More Old Man Baby Names We Love:
Albert: Noble and bright. Derives from German origin.
Alfred: Comes from Old English origin, meaning elf or magical counsel.
Archie: Archer or truly bold. Comes from German origin.
Arthur: Bear, Thor, or the eagle.
Barney: Defender
Basil: Royal or kingly
Bernard: Derives from old French or German origin. It means strong or brave bear.
Bobby: Comes from old English or French origin and means bright fame.
Bruce: Thick brush.
Calvin: Derives from Latin origin. It means bald and is linked to the number seven.
Chester
Clarence
Clifford
Clyde
Cyrus
Darryl
Dean
Dennis
Don
Dwight
Edgar
Edward
Emmet
Eugene
Felix
Francis
Franklin
Gary
Garret
George
Gerald
Gilbert
Glenn
Grant
Gregory
Hal
Harry
Harvey
Henry
Herman
Horace
Ike
Ira
Irving
Ivan
Jefferson
Jerome
Jerry
Johnny
Keith
Kenneth
Laurie
Leland
Leonard
Lloyd
Louis
Luther
Melvin
Milton
Morris
Moses
Murray
Nelson
Newton
Niles
Norman
Oscar
Oswald
Otis
Percy
Phil
Pierce
Quincy
Ralph
Rueben
Rex
Rhett
Roland
Rudy
Seymour
Sherman
Silas
Sterling
Terrence
Theodore
Tracy
Truman
Ulysses
Vernon
Victor
Vincent
Wallace
Walter
Wayne
Wendell
Wilfred
Wiley
Wilson
Wilbur
Woodrow
Zacharias
Zeke
This article was originally published on