Penguin Random House Sues Florida Schools Over Book Banning
The publishing company says that banning books related to race and sexuality go against the First Amendment.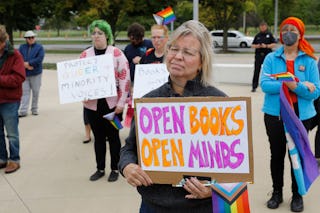 JEFF KOWALSKY/AFP/Getty Images
Writers' group PEN America, five authors, a group of parents, and behemoth book publisher Penguin Random House announced on Wednesday that they are suing a Florida school district for banning certain books from their libraries. The lawsuit states that the administration is violating the students' First Amendment rights and singling out books about race and sexual orientation.
The federal lawsuit is filed against Escambia County School District (which includes Pensacola) and its school board, which earlier this year banned ten books from the schools' library system. The books included titles like The Perks of Being a Wallflower by Stephen Chbosky, The Bluest Eye by Toni Morrison, The Nowhere Girls by Amy Reed and Lucky by Alice Sebold.
"Books have the capacity to change lives for the better, and students in particular deserve equitable access to a wide range of perspectives. Censorship, in the form of book bans like those enacted by Escambia County, are a direct threat to democracy and our Constitutional rights," Nihar Malaviya, CEO of Penguin Random House, said in a statement.
In the case of each book, the school board voted to remove the books on the recommendation of one language arts teacher and against the recommendation of a district book review committee that found the books suitable for kids. The language arts teacher said, according to the lawsuit, that a book banning website suggested the titles to her.
"In Escambia County, state censors are spiriting books off shelves in a deliberate attempt to suppress diverse voices. In a nation built on free speech, this cannot stand," said Suzanne Nossel, CEO of PEN America, also in a statement. "The law demands that the Escambia County School District put removed or restricted books back on library shelves where they belong."
The lawsuit also puts forth that the book ban violates the 14th Amendment, the Equal Protection Clause, "because the books being singled out for possible removal are disproportionately books by non-white and/or LGBTQ authors, or which address topics related to race or LGBTQ identity."
"This is no accident," the suit concludes. "The clear agenda behind the campaign to remove the books is to categorically remove all discussion of racial discrimination or LGBTQ issues from public school libraries. Government action may not be premised on such discriminatory motivations."
Escambia County school officials have not yet responded publicly to the lawsuit.
The lawsuit is the first of its kind.
Book bans by school districts have been skyrocketing across the country in the past few years thanks to a conservative agenda to limit student's access to certain books. These bans overwhelmingly target books by BIPOC authors, books with LGBTQ+ themes, and books about discrimination in history, such as books about the Holocaust and the Civil Rights movement.
Florida has been leading the charge in many ways, with right-wing Governor Ron DeSantis encouraging and passing as much legislation possible that limits public education and hurts kids who might be different. The "Don't Say Gay" law further hinders teachers to read diverse books to kids.
Districts across the state have removed books from libraries and classrooms, with many teachers frightened to share anything with their students that could get them disciplined or fired.
Of course, though, Florida would not ban the Bible, despite one man's protests that it contained large volumes of sex and violence.
With DeSantis eyeing a presidential run under a banner of doing stuff like this at schools, it's more vital than ever that companies like Penguin — alongside authors and parents — stand up to censorship, racism, and homophobia. And the outcome of this case will likely shed light on where the fight will go next.