The 9 Best Splat Mats For Under High Chairs — Your Back and Floors Will Thank You
These mats come in every size and color you can think of.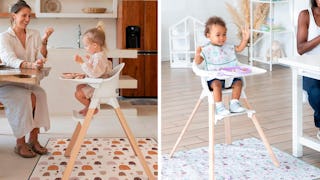 Amazon
We may receive a portion of sales if you purchase a product through a link in this article.
Why is it that every meal with kids ends with more food on the floor than in their mouths? If you're like most parents, you're probably looking for a way to make cleaning up that mess less time-consuming. These splat mats for under high chairs are just what you need — they're a lifesaver for your back and floors (or carpet), and you won't believe how easy they are to clean since most can be popped right in the wash.
What To Consider When Shopping For Splat Mats
High chair splat mats come in many different materials and sizes, with options including vegan leather and waterproof polyester. There are even eco-friendly disposable high chair mats that are perfect for travel. In fact, the disposable versions are a Scary Mommy fave for eating out; because nobody wants to end a relaxing meal apologizing to a server for their child's dinner that's now all over the floor.
Most of the mats on this list also double as drop cloths of sorts that are ideal for setting kids up for painting and other messy activities that would otherwise be a real pain to clean up after, and many are machine-washable, too (and we've noted which ones are below).
Scroll on to check out our top picks for the best splat mats for under high chairs and nab one (or several) for your sanity, today.