The 9 Best Stroller Mittens For Never Losing A Glove Again
by Kate Antoniades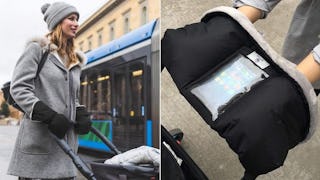 Scary Mommy/Amazon
Stroller mittens may be something you've never thought about — but they're a great item to put on your baby registry or to add to your stroller accessories if you already have a little one. You won't have to worry about cold hands (or wrists!) with these cozy mittens and muffs! They stay attached to the stroller handle so that you can pull your hands out if you need to take care of your baby or toddler — to pick up something they dropped, for example — without having to keep track of regular mittens or gloves.
Stroller mittens and muffs will work well for both short neighborhood walks and longer periods outside if you live in the city and walk everywhere. Most are machine washable, and while there typically aren't a ton of color choices, you're sure to find something that coordinates with your favorite winter wear. Some muffs even have a special pocket for your phone, and who can't appreciate an accessory that lets you go purse-free.
If you want to make winter walks a little less chilly, check out the best stroller mittens below!
Stroller Gloves
Stroller Muffs
Stroller Mittens