11 Summer Coloring Pages To Celebrate The Best Season Of The Year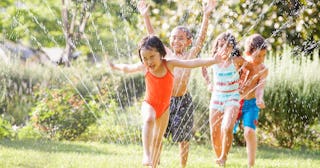 Ariel Skelley/Getty Images
Ah, sweet summertime! Is there anything more fun? The feel of the warm sun on your skin, the refreshing sensation of diving into a cool pool, the texture of the sand between your toes at the beach, lazy days spent languishing in the tall grass — seriously, what's not to love? And when you're growing up, summer is the pinnacle of freedom since you get to enjoy summer vacation. Admittedly, we're a little partial, but we think summer is the absolute best season. That's why we created a collection of summer coloring pages to celebrate this glorious time of year.
If you ask a kid to tell you what summer means to them, you're probably going to hear many of the things included here on these coloring pages: swimming, icy treats, hanging out with friends, seashells, pool floats, beach balls. You get the picture (literally, you can print 'em all out!). And while your little one probably wishes summer would last forever, they'll finish these pages at some point. We recommend printing out multiple copies of each page. That way, they can create different versions of their favorite sunny scenes. You can also add our spring coloring pages to the mix to give them a bit of variety. Or, if they want to stick with the all-hail-summer theme, try our octopus coloring pages, whale coloring pages, beach coloring pages, dolphin coloring pages, and ice cream coloring pages.
Free Summer Coloring Pages
Summer No. 1
It's official — one of our favorite things about summer is food! OK, fine, so that's one of our favorite things about any time of year. But don't you think food just tastes better in summer? One of life's greatest pleasures is eating watermelon under the hot sun. Fun fact: Watermelons are both a fruit and vegetable.
Summer No. 2
*In our best Julie Andrews voice*: Swimsuits and flip-flops and surfboards and coconut drinks, these are a few of our favorite things! Our favorite summer things, of course. And can you spot the coconut? Did you know that in 2013, police in the Maldives confiscated a coconut because they believed it was cursed with black magic?
Summer No. 3
Aren't these collages a blast? If you ask us, they'd look great printed on a t-shirt or a beach towel. We especially love the addition of the flamingo pool float on this one. Even the ancient Greeks knew summer was the best! The first Olympic games were held in the summer of 1896 in Athens. And speaking of Europe, did you know every summer, the Eiffel Tower grows more than six inches due to the seasonal heat that causes the iron to expand?
Summer No. 4
When it's super-hot outside (and that's kind of summer's whole deal), a few scoops will cool you right down. The best summer ice cream to eat, if you ask us, is one that is sweet and refreshing — like sherbet or mint chocolate chip. And speaking of food, between Memorial Day and Labor Day, Americans eat over seven billion hot dogs! On July 4th, Americans eat enough hotdogs to go from Washington, D.C. to Los Angeles, five times. And here's a fun fact about ice cream: Did you know Ben and Jerry's employees get to take home three pints of ice cream each day? We wonder what flavor these kids are eating!
Summer No. 5
Family vacation time! Everyone has an iconic summer vacay story, right? This family looks as though they've been enjoying a coastal trip together, complete with beach reads, snorkeling, beach ball, and sandcastles. It's also the season for amazing summer blockbusters. Theaters released these 10 famous flicks during the summer: Jaws, Star Wars, Jurassic Park, The Dark Knight, Raiders of the Lost Ark, E.T.: The Extra-Terrestrial, Forrest Gump, Ghostbusters, Animal House, and Terminator 2: Judgment Day. Speaking of summer months, did you know July is national blueberry month?
Summer No. 6
This page would lend well to a follow-up activity: getting your kiddo to create a collage of their favorite summer things. Will it look the same as this little girl's? Or be even more adventurous? For a fantastic conversation starter, ask them to explain why they chose the elements they did. This picture is the definition of summer. Did you know more than 650 million people take long-distance summer trips?
Summer No. 7
We spy with our little eyes… a bottle of sunscreen! Use this opportunity to explain to your little one why we need to protect our skin from the sun. It's not the most glamorous aspect of summer, but it is one of the most important. Did you know the record for the most people applying sunscreen was set on Jan. 8, 2012, in Australia? There were 1,006 people applying sunscreen at once.
Summer No. 8
This child's summer collage includes a butterfly and a dragonfly. Did you know that both belong to the kingdom Animalia, phylum Arthropoda, and class Insecta? However, they are of a different order — butterflies belong to the Lepidoptera order, while dragonflies belong to the Odonata order.
Summer No. 9
Calling all cruise-lovers! If your family has ever used their summer vacation days to set sail on a cruise, you know how thrilling it can be. Sign us up for all the shore excursions, please.
Summer No. 10
These siblings look as though they're having one of those idyllic summer days at the beach. We can practically hear the seagulls squawking in the background, the waves rolling in, and the sand crabs scuttling around beneath our feet.
Summer No. 11
And just look at all these tiny and adorable suns. These solar stars may look like babies, but can you guess how old the actual sun is? It is a little over 4.5 billion years old.
Click here to print all of the summer coloring pages at once!
This article was originally published on