A Dad Took His Young Daughter Out On The Most Adorable "Pick A Card" Date
The evening included a shopping spree at Target, sushi and a spa night for the toddler.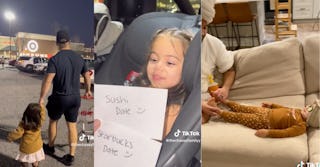 TikTok / @thechavezfamilyy
By now, you've probably seen those "pick a card" dates on TikTok. The now-viral trend typically includes one significant other planning out a series of choices for their partner when it come to a date. From food choice to activity to a store they get to shop at, the "pick a card" date idea is actually pretty cute and fun.
One dad on TikTok decided that he was going to plan a "pick a card" date, but not for his wife. Instead, he planned out a date for his young daughter.
"The best date of my life," Joshua Chavez, aka @thechavesfamilyy, captioned the now-viral TikTok on his family's TikTok account. Chavez is married to Madison Chavez and couple document their lives as parents to their four children — Kayden, Channing, Indie, and Isla — on YouTube as well as TikTok.
In the video, Chavez first presents his daughter — Indie — with two cards: "shopping spree at Target" or "trip to Disney World."
Indie chose Target.
Fortunately for Chavez, Indie was super pumped about picking out some toys at Target and she can't read yet so she really had no clue that she was this close to getting to meet Mickey Mouse.
The daddy-daughter duo walked around the toy aisles at Target, while Indie pushes a kiddie-sized shopping cart already filled with toys.
Next, Indie got to choose between a treat of sushi or Starbucks. Once Indie picks sushi, she smiles and kicks her feet in glee. Then, we see Chavez and Indie dining at their kitchen island with a giant helping of sushi.
The last activity of the night boils down to either a tea party or a spa night. When Indie opts for the spa night, Chavez really turns on his Girl Dad Mode. Indie received foot rubs and sliced cucumbers on her eyes while lounging on the couch. Dad joined in even donning a wrapped towel on his head and a robe to fit the spa aesthetic.
Words of love and admiration poured in for Chavez in the comment section of the video which now has over 6.6 million views.
One TikTok user noted how adorable Indie's excitement is even though she has no idea what any of the card say. "The best part is she has no idea what any of it says but she's so excited ... her little anticipation," they wrote.
Another user commented on how "real" Chaves was for participating in the spa night with his little girl instead of being a bystander. "REAL men let their daughters paint their nails or do their girl activities with them 🥰 SOOOO CUTE!" they wrote.
While most of the comments centered around the all-encompassing adorableness that is this father-daughter moment, one thing that most of the commenters could agree on was that Indie was robbed of that Disney trip and deserves another shot.
"She better get that trip to Disney anyway 😭" one user commented, speaking for all Indie-supporters. Get that girl to Disney, STAT!