Pink Is Every Quarantined Mom Trying To Fit In A Workout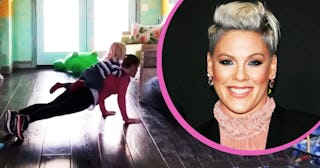 Pink/Instagram and JEAN-BAPTISTE LACROIX/Getty
Pink added a little extra resistance to her workout in the form of her super-cute son
Since we're all the in midst of social distancing due to the coronavirus crisis, gym visits aren't exactly an option at the moment. But when you're a mama, you're used to multitasking — and for Pink, that currently looks like squeezing in strength training while juggling her adorable three-year-old son Jameson Moon Hart.
Taking to Instagram on Sunday, Pink shared a short video of her latest workout. In case you missed it, choreographer Ryan Heffington has been using Instagram Live to stream his "Sweatfest" dance class so that families can join in while stuck at home during this trying time. So, while Heffington's class streamed in the background, Pink made the most of being home with her little boy by inviting him to be a part of her exercise routine.
"I was carrying a 40 pound weight in today's @ryan_heffington dance class," she joked. But can we just say how impressed we are on multiple levels here? Not only is Pink obviously strong as hell (I can barely do a push-up with nothing on my back but a tank top), but Jameson also shows off some serious balance.
Exhibit B? Earlier this month, she showed what a tight-grip Jameson has during a mother-son yoga sesh.
While we're on the subject of this rad family, we should probably point out that Pink's house feels every bit as fun and vibrant and full of life as she is. Brightly hued walls, cool architectural details, quirky furnishings (is that a Grecian statue by the door?) — yeah, this feels like the space of a badass mom we'd love to have in our circle.
In further proof she's the mom friend we all need right now, Pink recently revealed that she lets off the coronavirus tension by rage-cooking. She doesn't whip up just any old thing, either. When Pink gets stressed out over the state of the world today, she pounds out her unrest on a ball of dough. That ball of dough ultimately becomes homemade ravioli. So, basically, the best comfort food ever.
And over the weekend, she shared a cute snapshot of her daughter Willow baking Brazilian Cheese Bread.
So, yes, please do sign us up to eat our feelings with Pink and her fam. Or practice mom-balancing-baby-workouts. We're pretty much looking to Pink at this point to lead us through the uncertainty of quarantine mom-life.