Postpartum Care: The "Down There" Essentials No One Tells You About
We only recommend products we love and that we think you will, too. We may receive a portion of sales from products purchased from this article, which was written by our Commerce team.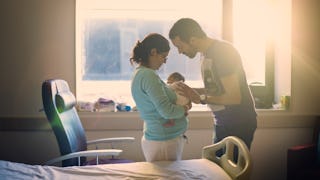 Image taken by Mayte Torres / Getty
Expecting moms, listen up: The postpartum must-haves and essentials you stash in your postpartum kit are just as important as stocking the nursery with the newborn essentials you meticulously added to your baby registry. Yes, that comfy pregnancy pillow is your sleeping savior now, but a postpartum kit will help you heal after one of the biggest bodily events of your life (you know, after nine months of growing a human). It should have all the necessities to help you recover as quickly and comfortably as possible after the physical trauma of giving birth. And while buying supplies like postpartum pads and perineal spray isn't nearly as fun as browsing through teeny-tiny baby clothes, your exhausted, sore self will be grateful to have a bit of relief. After all, your baby needs you, and you deserve to have the best post-birth care as you dive head-first into motherhood. All that said, knowing what to buy for your postpartum care can be tricky, especially if you're a first-time mom.
Cassie Shortsleeve, a perinatal health coach and educator and the founder of Dear Sunday, says, "Matrescence, the process of becoming a mother, is one of the biggest physical, physiological, [and] psychological transformations women go through in their lives." Beyond assembling a postpartum kit, Shortsleeve recommends specialized postpartum support. "I always suggest a postpartum doula and social support (virtual groups — I run some) throughout this transformative timeframe," she says.
RELATED: The Best Breastfeeding Pads For Preventing Leaks While Nursing
What should I wear immediately after delivery?
You'll want something that's easy access for breastfeeding, skin-to-skin, and medical personnel, but also easy for covering up if you expect guests and don't want to — you know — be all naked (but if that's how you roll, more power to you!). A labor and delivery gown is made for just this (don't worry, we found cute ones!), and you'll definitely want to stock up on mesh underwear, but more on that below.
Also consider getting a few sets of nursing gowns and pajamas and bringing them for your hospital stay. You'll also appreciate having them in those first weeks and months at home.
What should I buy for postpartum care? / What should be in a postpartum kit?
Do your postpartum self a favor and stock up now, then create a kit for your delivery bag plus more supplies to keep at home. Below, your official postpartum checklist, which includes must-haves from the moms who've been there. Seriously, you'll want one of everything on this list.
1. Cooling Wipes & Pads
A godsend. The cool, soft cloths are gentle enough to clean your delicate areas and sturdy enough to line the top of your menstrual pad (or disposable undies). The natural antiseptic in Tucks helps inflammation while fighting bacteria. It's incredibly soothing to your war-torn vaginal area and your newly-inflamed hemorrhoids (yep, there are hemorrhoids).
Frida Mom also has pad liners that can be stashed in your panties for relief. They're soaked in witch hazel, a natural soother.
2. Peri Bottle (Squirt Bottle)
It's hard to feel fresh when you're a hot mess. After using the bathroom, a quick squirt of warm water keeps your personal spots clean. Most hospitals provide peri bottles, but you can buy yourself a better one that's designed to squirt upward so you don't have to finagle an angle. It's a small convenience, but you'll want anything that makes life even the tiniest bit easier as you recover. Unless you have a bidet, a peri bottle is your new best bathroom friend, making it a postpartum must-have.
3. Pain & Itch Relief Spray (For "Down There")
Get a bottle for every room where you might pull down your undies! No joke! One major brand is Dermoplast — I found the blue bottle to be superior to the red bottle. Both use benzocaine as their active ingredient, but the blue bottle contains menthol and lanolin, making it perfect for after-birth care. After gentle wiping or spritzing with water, a quick spray on your privates eases the sting.
Similarly, Frida Mom has a healing foam that also relieves pain and swelling. Like the pad liners, it uses witch hazel as a main ingredient and is made without harsh chemicals.
4. Postpartum Pads
Again, the hospital will have pads, and they will probably have ice packs, too. If you're lucky, they may also have padscicles, which are both in one. Either way, you'll want to have some extras on hand. Instead of getting pads and ice packs separately, go for absorbent pad/ice-pack combos that are easier, less bulky, and cleaner than shoving an ice pack and a pad in your (mesh) underwear.
As the bleeding lets up, you'll be able to downsize to heavy-duty overnight pads, then regular pads over the course of a few weeks.
5. Disposable/Mesh Underwear
Most hospitals put you in mesh underwear. It feels awkward, but it's oh-so-practical. It's much easier to toss everything instead of having a pile of disgusting undies to wash. As you heal, accidents still occur, so be sure to add this to your postpartum checklist. And, FYI, you'll be wearing these for at least a couple of weeks.
While you'll probably be sent home with a pile of not-so-sexy underthings, it's nice to have extra underwear on hand so you don't run out. Frida Mom's boyshort mesh undies are thicker than hospital-grade, and since you'll be wearing a pad with them anyway, you can keep them on for a couple of days. (They start to deteriorate when you rip off the pads). Some new moms even opt for absorbent underwear, which takes the place of using mesh underwear with pads, and Always Discreet is a popular choice.
6. Products for Breastfeeding
Nursing or not, you will leak. Grab some nipple pads to absorb extra milk and keep your shirts (mostly) dry. Disposable nipple pads are easiest in those first few weeks especially, but you can grab a set of washable pads, too. If you are breastfeeding, consider getting a pair of nipple pads designed to soothe sore, cracked nipples, like Lansinoh Soothies (they can be reused for up to 72 hours). And if you want to catch the milk leaking into your bra rather than absorb it, Shortsleeve recommends Haakaa's silicone breastmilk collectors, which she says are "so great for catching milk early on and [you] could get enough to make a bottle without needing to pump, i.e., someone else can do a feed without you needing to pump."
In addition to dealing with leaking milk, you'll likely experience sore nipples for a few to several weeks after you start breastfeeding, but an effective nipple cream can be a lifesaver. Shortsleeve recommends Motherlove's nipple cream and says, "It's the softest out there, and needed in those early days of raw and painful nipples." (Bonus: The company is a woman-owned, zero-waste Certified B Corp that focuses on herbal ingredients.)
Good nursing bras are another key to improving your breastfeeding experience, and Shortsleeve suggests Bodily's Everything Bra. "This one is as soft as butter," she says. "I always tell clients to invest in it."
7. Caffeine & Pain Relievers
Blinding postpartum headaches, especially after an epidural, are a real thing. Ask your doctor beforehand about how to address it, as your plan may differ due to your healthcare needs and history.
For me personally, a combination of caffeine and Tylenol staves off shooting headache pains. After baby number three, iced coffee did the trick. One inexpensive caffeine pill equals one cup of coffee, so keep a bottle on hand (or, go all out and consider it an excuse to get Starbucks on the reg). You'll also want a stash of ibuprofen and/or acetaminophen (Tylenol). (The doc may suggest you rotate.)
8. Stool Softener
It takes a bit of time for your system to regulate — not to mention, pushing in any capacity can be very painful while you're still raw. That's why most doctors recommend a stool softener for those first few days.
9. Prenatal Vitamins
Your body needs to recoup. Keep taking your prenatal vitamins for at least six weeks postpartum, longer if you desire. And talk to your OB-GYN about postpartum vitamins. Yes, they're a thing.
10. Quick, Healthy Snacks
With a newborn at home, you'll barely have time to take a shower, let alone sit down to a healthy snack. This is especially true if you're a breastfeeding mama, as you'll be especially tired and hungry as you work to nourish your baby around the clock. But whether you feed your little one with breastmilk or formula, you'll want to keep your energy up with some quick, healthy snacks like dried or fresh fruit, granola bars, or yogurt cups.
If you plan on being a breastfeeding mama, look for snacks with ingredients to help with milk production like oatmeal and even lactation-promoting ice cream (!). And check out Boobie Bars and Nunona Mama Balls, which are specifically designed to enhance the quality of breastmilk. (P.S. They're delicious and satiating even if you're not breastfeeding.)
11. A Postpartum Care Kit / Postpartum Care Package
You can also save yourself some trouble by getting a kit that's already put together for you. You'll probably end up paying a bit more for fewer products, and we still suggest going through this checklist to make sure all your bases are covered.
However, these kits provide a great starting point, are easy to pack into your hospital bag, and make wonderful baby shower gifts for other expecting moms. Amidst piles of cute (and at times, useless) baby items, she'll certainly appreciate that someone thought of her.
Make those first weeks easier on yourself by thinking about your needs beforehand. I know, I know, it's more fun to buy a layette than it is to buy a package of Depends. Thinking about snuggling blissfully with Baby is preferable to thinking about what you will do when you can't wipe after number two. However, experience has taught me that I don't want to be without these items after birth, and you won't want to be, either.