27 Names That Mean Chaos Because, You Know, Kids
Call your little one something that captures the beautiful wildness they bring.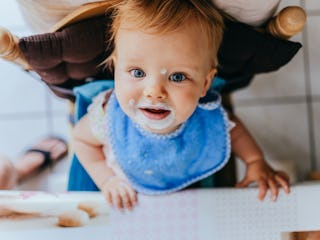 Guido Mieth/Getty Images
Life instantly becomes chaotic as soon as you have a baby. Maybe your birth was a bit unexpected, or you're juggling multiple kids at once. It could be that you live for the drama and thrive amid chaos. Perhaps you just gave birth, and you can already tell your little one is giving off some big chaotic energy. Whichever the case, if you're looking to name your baby, you might be leaning towards names that mean chaos. And, honestly, why not?
Tons of people wax poetically on what it means to be peaceful and calm, but there's validity in welcoming a little chaos and trouble in your life — especially if you're one to rise above life's challenges and embrace the uncertainty of it all. What's even better is that many of these names that mean chaos are actually quite lovely, like Emily, Briar, and Aiden. Isn't it time we celebrate the fact that beauty and love and chaos can all exist in the same space... and often do? In fact, you can't get much closer to the definition of a baby than that.
So, if you're looking for edgy names that mean chaos, you'll love the following list.