Bring On The Serenity With These 29 Baby Names That Mean Peace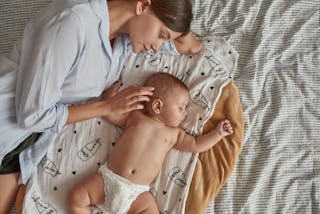 Shutterstock
In this topsy turvy world, who doesn't want their little one to have a life of peace? While you will do the best you can to offer as much serenity as possible to your new little one, you might also consider gifting them with a name that means peace. As Mother Teresa once said, "Peace begins with a smile." And anyone who has ever held a smiling baby in their arms can surely speak to the tranquil power of that moment.
A warm feeling everyone craves, peace is soothing, relaxing, and healing. It's a blessing to the world (one we can all agree the world needs more of right now), so it would be nice to have your baby's name reflect that. The hope? Not only will your child bring more untroubled contentment to your life, but they'll also grow up to be peacemakers for other people. And, hey, if giving your kid a name that means peace just so happens to magically make them a bit calmer during their toddler years, so be it. Who are you to argue with the naming gods?
So, if you're looking for that kind of name, you're in luck. Below, you'll find a bunch of beautiful options — some literal, some symbolic, all refreshingly serene choices for your future peacemaker.
Choosing a baby name that means peace may not have a global peacemaking effect (although, who knows what your kid will grow up to do?), but it's sure to bring a bit more tranquility to your mama heart.
This article was originally published on