Namaste, Mama! Here's Everything You Want To Know About Prenatal Yoga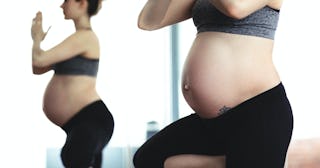 freestocks.org from/Pexels
Prenatal yoga is pretty much the perfect exercise for pregnancy. It helps keep you moving and toned but in a low-impact and gentle way that works with your growing belly and helps with those third-trimester aches and pains. Then, of course, there's the mind-body connection. You get to take time out of your busy work and home life to connect with your body and breath, and "om" out those worries (including the ones you have about baby!).
If you're curious about prenatal yoga and want to learn more, we've got you covered — from benefits to poses to online classes you can try right now. But remember: It's always best to consult with your obstetrician or healthcare provider before beginning any prenatal exercise program.
Interested in more pregnancy-related content? Check out our pages on baby showers, baby sprinkles, sip and sees, and more.
Definition of Prenatal Yoga
Prenatal yoga is a low-impact exercise and meditation where breath and specific body positions are used to help connect the mind and body. The breathing techniques used might help reduce or manage shortness of breath during pregnancy and help you through contractions during labor. Poses are specifically designed for pregnant women's bodies. Yoga is such a chill and relaxing exercise, you can start your prenatal stretches any time you like. However, if you're not feeling OK, it's best to skip any physical activity.
What Makes Prenatal Yoga Different
You've probably wondered, What exactly is the difference between yoga for pregnant women and other yoga? Well, prenatal yoga usually uses more tools like exercise balls or chairs to help support your stretches. Your body will grow, and getting down on the ground or getting up grows more difficult as your pregnancy develops. In prenatal yoga, there aren't any exercises that include arm balances, advanced stands, or laying on the back or belly.
Prenatal Yoga Benefits
If you're not cleared to exercise while pregnant, yoga — which is less intense — can be your saving grace. We already know what yoga can do for you, but have you ever thought about the amazing benefits it can have for your little one? There are a number of benefits to starting a prenatal yoga practice. It can:
Improve sleep (bonus for those sleepless nights!).
Reduce stress and anxiety (definitely a plus for you and baby).
Increase strength and flexibility for the physical body, hip, and abdominal core muscles, which is going to help prep you for giving birth. No matter how you slice it, labor is not going to be easy. But doing yoga while pregnant helps builds a strong and stable pelvis floor. This minimizes pain during the delivery.
Maintain prenatal fitness.
Decrease common pregnancy symptoms, like nausea, back pain, headaches, and shortness of breath.
Help you maintain an exercise regimen. So, if you were hitting the gym before your pregnancy, it won't be hard transitioning back into an active routine.
Meet other mamas. Pregnancy is stressful, and it's nice to have some comradery and support during your journey. Joining a mommy yoga group is a great way to get a few more friends in your corner.
Strengthen your bond with baby. According to Kundalini yoga, you and your baby share the same aura. You and your child share this connection from their conception up until their first few years of life. When you do yoga, you're teaching your body to be present and connecting your minds and bodies. This creates a special bond and experience for both you and baby.
Strengthen your balance, which is very important when you're with child. The different poses train your mind and body to ground itself. So, if you feel shaky, whether that be physically or emotionally, yoga is a great way to balance your hormones and uneasiness. It can also help you get used to your new pregnant body.
RELATED: Keep Calm And Om On: 28 Best Yoga Gifts For Your Favorite Yogi
Best Poses
As opposed to regular yoga, prenatal yoga modifies poses for a pregnant body so that you feel comfortable. It also takes into account your shifting weight and balance. Instead of vigorous flows and positions that are tough on your joints, it focuses on breathing and strengthening via specific poses. Some of the most popular include:
Elevated Legs Up the Wall
This inverted pose helps bring circulation to the legs, womb, and pelvis, and helps to release the pelvis. It also relieves fatigue and offers deep relaxation.
Elevated Child's Pose
A soothing pose to rest the heart and ease breathing in between contractions, this is a great resting pose that can help you in labor.
Yoga Squat
This pose helps to stretch the groin area while opening up the hips, which helps prepare the area for your baby to arrive.
Tree Pose
A pose that strengthens the muscles around the hips and pelvis, it also helps promote stability with the ankles and increases balance. All the better to help you walk and give birth to baby!
https://www.instagram.com/p/CHI0v1-H3ZF/
Prenatal Yoga Online Classes
Interested in trying out a prenatal yoga class? Check out these online options.
Pregnancy and Postpartum TV: This YouTube channel features weekly prenatal yoga and pregnancy fitness classes.
Fit By Larie: This YouTube channel has a variety of workouts, including prenatal yoga videos that range from beginner to advanced.
Lauren Eckstrom: This practice comes from Eckstrom's 40-week online program called "Initiating the Mother." You can experience the full program (all 30 unique classes!) through a free 10-day trial when you visit www.innerdimensiontv.com.
Other Prenatal Yoga Sites:
Gaia: The wellness website hosts a slew of pre- and post-natal yoga videos for all levels and varying lengths for prices from $14.99 to $33.25 a month.
Glo: The yoga site offers a number of prenatal yoga videos. You can try it out with a free trial and then continue monthly for $18.
What does a prenatal yoga class look like?
Are you thinking about heading to a yoga class but aren't sure what to expect? Besides a room full of supportive and pregnant mamas, class is usually made up of three parts.
Just like in regular yoga, breathing is key. Usually, the instructor's goal is to coach mamas through their shortness of breath, which is a huge help during labor.
Instructors won't turn your class into a gymnastics course, so stretching will be pretty basic. It may look like the poses above or anything within your range of comfort.
As you move through different positions, comfort is the priority. Expect lots of blankets, cushions, and belts you can use for support. Your instructor knows that moving while pregnant can be difficult and wants to ensure you're relaxed.
This article was originally published on