10 Race Car Coloring Pages That'll Kick Arts And Crafts Into High Drive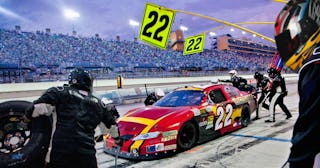 Jon Feingersh/Getty Images
Vroom, vroom! It's a simple sound that signals so much fun, right? Hearing your little one play with race cars is probably a common occurrence in your home, and we won't mention the minefield of tiny Hot Wheels you have to skip over just to make it to the other side of the room. So, if you're a little exhausted (car pun intended!) by all the mini vehicles taking over your living room, then you might want to suggest these race car coloring pages to your child. No doubt, they'll drive right over to the table with their crayons and step on it.
What is it about race cars that fascinate kids so much? Or maybe the better question is this — what isn't fascinating about race cars? They're colorful, sleek, and, of course, super fast. They basically bend the laws of physics; that's how fast they are. Not to mention, race cars have quite the fast-inating (see what we did there?) history. A few interesting facts: The first true car race was held in France, from Paris to Bordeaux, and back, in 1895. That same year, car racing began in the United States, from Chicago to Evanston, Illinois, and back. Since then, the sport has only gained in popularity globally.
So, pull up a chair, strap in, and get coloring! This DIY activity might drive your kiddos to color more. That's totally fine, though, because we've got coloring pages for just about any interest a child might have, from cute puppy coloring pages to shark coloring pages. Or, if your little one can't get enough of heavy machinery, have them zoom on over to our tractor coloring pages, airplane coloring pages, helicopter coloring pages, train coloring pages, and fire truck coloring pages. Now, on your mark, set…go!
Free Printable Race Car Coloring Pages
Race Car Page No. 1
One of the oldest existing automobile racing circuits in the United States, still in use, is the Indianapolis Motor Speedway in Speedway, Indiana. It has the largest capacity sports venue worldwide, with a top capacity of some 257,000+ seated spectators.
Race Car Page No. 2
Bill France, Sr., along with other drivers of the time, founded NASCAR on February 21, 1948. The first NASCAR race ever was held on June 19, 1949, at Daytona Beach, Florida. But can you guess what NASCAR actually stands for? The answer is National Association for Stock Car Auto Racing.
Race Car Page No. 3
Formula One, based in Europe, and the IndyCar Series, based in the U.S., are the two most popular open-wheel car racing events. Did you know the Formula One car's exhaust is hot enough to melt aluminum? It can reach up to 1,832 degrees.
Race Car Page No. 4
Back in the early days of racing, drivers used ordinary cars. Now, vehicle manufacturers specially make race cars in various forms. The fastest car is the Indy Race Car, which can top out at 220mph (360 kph). Did you know that's faster than a plane taking off, which is usually between 150 to 180 mph?
Race Car Page No. 5
When they say, "Let's burn some rubber," they mean it. A Formula One's car exhaust can reach 1,000 degrees — a temperature so hot, it can burn aluminum.
Race Car Page No. 6
In fact, a Formula One car is so fast that utility workers must weld maintenance holes shut during a race, or else the car's speed will literally suck them up. True story! This scenario has caused wrecks before.
Race Car Page No. 7
Formula One races are exclusively held on the streets and roads of Europe. Some of the races include the Monaco Grand Prix, the Italian Grand Prix, and the British Grand Prix. The season ends with the sought-after World Championship.
Race Car Page No. 8
In the U.S., the Indy Car series runs champ. While the American race cars are not as technologically advanced as their European counterparts, they are faster. The series' biggest race is the Indianapolis 500, which is the longest continuously run race with the largest crowd for a single-day sporting event, topping out at 350,000+.
Race Car Page No. 9
It takes about 60 to 80 gallons of gas burned per minute for the fastest race cars to reach their full capacity. Which, yes, isn't that great for the environment. Maybe a good conversation starter with your kiddo about sustainability and conservationism?
Race Car Page No. 10
If you think the NFL prices are high, consider this: the top F1 teams spend about $500 million per year. Wowza.
Click here to print all of the race car coloring pages at once!
This article was originally published on